"Our position is distinct and clear. We want to make friends with everybody, but we do not want us to be used against anyone in terms of geopolitics. We do not intend to make friends with the West against Russia – this is my position," Dodon said at a meeting with Russian President Vladimir Putin in Moscow.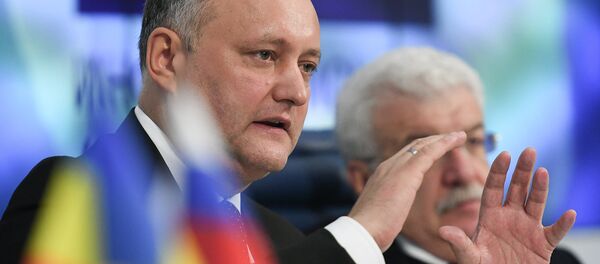 He also expressed confidence that, though the government and parliamentary majority might think otherwise, the situation would change after the upcoming parliamentary election scheduled for November.
Dodon also noted the progress in the settlement of the Transnistria conflict made over the past several years, and reiterated his position, "as well as the position of the majority" of the Moldovan people, that the mission of Russian peacekeepers in the region was a successful one, denouncing attempts to undermine it or question it.
Putin, in turn, pledged to take all efforts to normalize Russian-Moldovan ties.
"We will, by all means, facilitate it [the normalization of relations]," he said.
Shortly after the meeting, Dodon wrote on Facebook that Putin had invited him to pay an official visit to Russia this fall, expressing hope that the visit would "contribute to the development of long-term strategic partnership relations" between the two countries.
READ MORE: NATO Office in Moldova Likely to Close After Parliamentary Election — President
Moldova, a parliamentary republic, has long been experiencing a stand-off between the president and the government over the country's foreign policy.
Dodon insists on rapprochement with Russia, while the parliamentary majority and the government stick to a pro-Western course in foreign policy and call for the withdrawal of Russian forces, deployed as part of the peacekeeping mission in the breakaway region of Transnistria.