A radiological re-examination of the mummified body showed that his stomach was completely full when the man died.
According to a study published in the journal Current Biology, Otzi's last supper included the fat and meat of a wild goat, meat of a red deer and whole wheat seeds which he ate before he died – a well-balanced menu of carbohydrates, proteins and lipids perfect for high-altitude trekking.
"It's a harsh environment. They had to be prepared. They had to have food that gave them the necessary energy (to survive)," Frank Maixner, lead author and microbiologist at the Institute for Mummy Studies in Italy, told National Post.
He also said that the meat was likely uncooked and dried.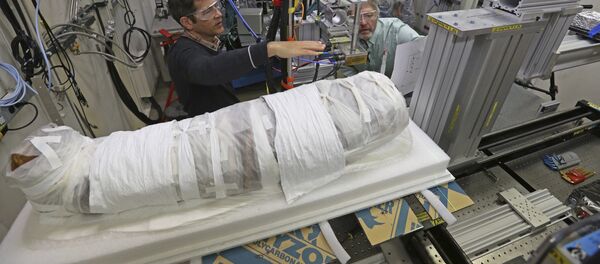 6 December 2017, 14:53 GMT
Traces of fern leaves and spores were also discovered in Otzi's stomach.
Justina Miszkiewicz, an Australian National University lecturer in biological anthropology said that "these findings are of huge importance to the study of the past of humanity as they let us understand that the Iceman made good use of fat, meat, and cereals in a cold and high-altitude environment — testament to the adaptability of the human species."
Even though scientists have studied major dietary changes during the Neolithic period before, this research may be the first to provide insight into how and what people ate in those days.
READ MORE: Believe It or Not: Peru's Alien Mummy Baffles Scientists (VIDEO)