During a combing operation in Syria's Deir ez-Zor province, the Syrian army discovered a large cache of weapons, munitions, telecommunication equipment, as well as US-made mortar shells at a depot left behind by Daesh, the Syrian Arab News Agency (SANA) reported.
READ MORE: Syrian Army Reportedly Seizes French-Made Anti-Tank Missile Systems in Daraa
The report suggests that the arms included 120mm mortars, BM-21 Grad rockets, 107mm rockets, 40mm grenades, anti-tanks missiles and a combat-net radio, as well as an unspecified amount of mines and explosives.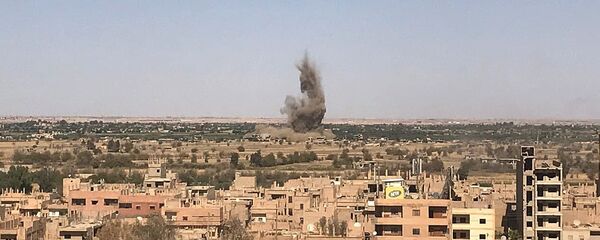 In November 2017 Syrian government forces declared the full liberation of Deir ez-Zor, which used to be Daesh's stronghold for three years.
In another development earlier this week, Syrian troops seized several French-made APILAS (Armor-Piercing Infantry Light Arm System) anti-tank systems in another Syrian province – Daraa, the Defense Blog website reported, citing local media.
SANA's Tuesday report also suggested that Syrian sappers working in the recently liberated Daraa settlement of Gharaz had uncovered storage facilities containing US-made TOW anti-tank missile systems.
READ MORE: Military: Without Agreement Between Players, Manbij Will Become Next Deir ez-Zor
On July 12, the Syrian army raised the national flag over a number of buildings in Daraa after the leaders of armed groups agreed to surrender arms and cease hostilities with the help of the Russian Reconciliation Center for Syria.
*Daesh, also known as ISIS/ISIL/IS, is a terrorist group banned in Russia and many other countries.