Speaking to Reuters, the NATO Allied Air Commander General Tod Wolters said that Turkey's plans to buy Russia's S-400 surface-to-air missile defense system would help Moscow accumulate information about range of detection and other characteristics of the US-made F-35 stealth fighter jets, as they are gaining a foothold in Europe.
"Anything that an S-400 can do that affords it the ability to better understand a capability like the F-35 is certainly not to the advantage of the coalition," Walters said.
According to a spokesman for the US Air Force, Norway, Italy and Britain are expected to have a total of 40 F-35s in Europe by the end of the year, with 24 more to be supplied in 2019; the Netherlands are also set to receive two aircraft.
READ MORE: If US Doesn't Plan on Attacking Turkey, It Shouldn't Fear S-400 Deal – Analyst
Wolters said the North Atlantic Alliance was worried about "how much, for how long and how close" for any F-35 jets would be operated near the S-400s, at the same time noting that despite the disagreements, relations with the Turkish Air Force remained "strong."
"All those would have to be determined. We do know right now it is a challenge. For right now, all the conversations surrounding that challenge have not hindered at all the strong relationship that we have with the Turkish Air Force and the great alliance that the two nations have together. We want to make sure that for now we're continuing on that path," he said.
The Russian missile defense system is a major stumbling block in Washington-Ankara relations.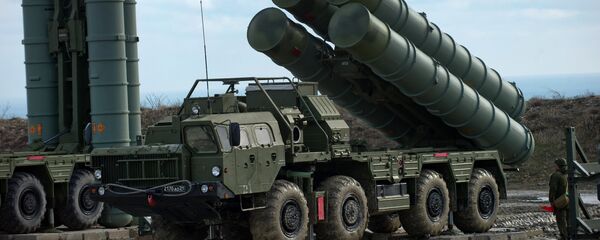 In late June, US Assistant Secretary of State for European and Eurasian Affairs Wess Mitchell warned that Washington would impose sanctions on
Ankara if it proceeded with the purchase of the S-400s while being involved in talks with the US on supplies of F-35s. The official further added that Washington may withhold supplies of the stealth jets, citing national security concerns.
Responding to the US' threats, Turkish Foreign Minister Mevlut Cavusoglu promised to take symmetric measures in the event Washington decided to introduce sanctions.
"They say 'if you buy the S-400, we'll impose sanctions.' If you impose sanctions, you will see our answer. If you want such relations, then this is your choice," he said.
On December 2, 2017 Russia and Turkey signed a loan agreement on the sale of the S-400s to Ankara. Reacting to the deal, the US threatened with anti-Turkey sanctions, as it believes that the Russia-made weapon is incompatible with NATO's defenses.