"In #Finland tonight. Monday, [Trump] & I will meet with our Russian counterparts in #Helsinki. A better relationship with the Russian government would benefit all, but the ball is in Russia's court. We will continue to hold Russia responsible for its malign activities," Pompeo wrote on Twitter.
​The US Secretary of State and the president landed in the Finnish capital on Sunday. The high-level US-Russian meeting will be held later on Monday.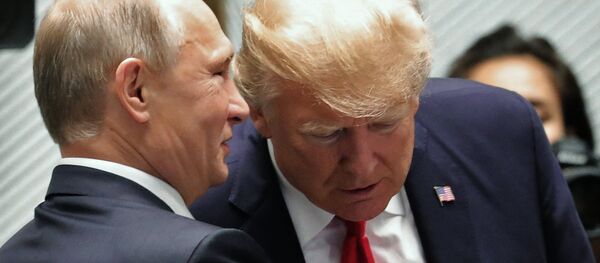 For months, relations between the United States and Russia have been at what officials from both nations called the lowest point since the Cold War. The deterioration in relations followed Washington's allegations that Moscow had interfered in the 2016 US presidential election, won by Trump. Moscow has repeatedly denied these allegations saying that the United States has not presented evidence to substantiate them.
The announcement of the meeting between Trump and Putin has been welcomed by politicians from both Russia and the United States, as well as other countries, with many expressing hope that the summit would help improve US-Russian relations and stabilize the global security situation.
READ MORE: Putin-Trump Summit to 'Put America in Better Place', Sec. of State Pompeo Says
The two presidents are expected to cover a wide range of issues, including Syria, Ukraine, nuclear non-proliferation and Moscow's alleged meddling in the US elections during their summit.