The Syrian army has announced it captured a strategically important hill al-Haara on the second day of the offensive to retake remaining parts of southwest Syria close to the border with Israel.
READ MORE: Evacuation of Militants to North Syria Begins in Daraa – Reports
The Syrian government's advance came several days after it had secured control of most of Daraa province with the help of the Russian Reconciliation Center for Syria. On July 15, a first batch of militants, who did not want to reconcile with the country's authorities, and their families began to leave Daraa for Idlib. According to SANA, 10 buses with 407 fighters and their relatives were evacuated from the newly liberated province.
"As a result of the talks, under the mediation of the Russian Center for Reconciliation with the leaders of armed groups in the province of Daraa an agreement on the following issues [has been reached]: the cessation of hostilities; the beginning of the delivery of heavy and medium weapons in all settlements under the control of armed groups," the reconciliation center said in a July 7 report.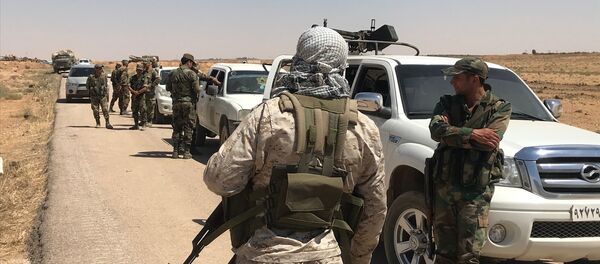 In light of the intensified battles in the country's southwest and the army's advances towards the Israeli border, the Israeli Defense Forces have allegedly been put on high alert in the area of the Golan Heights.
Last week, the Syrian Arab News Agency (SANA) reported that the IDF had attacked Syrian army positions in Quneitra, which was later confirmed by Tel Aviv. Syrian air defenses were able to intercept some of the strikes, with the media outlet saying that only material damage had been done.
Israel captured the Golan Heights from Syria during the 1967 Six-Day War, and completely annexed the territory in 1981. While the international community has not recognized the annexation, even condemning Tel Aviv for the move, Israeli Prime Minister Benjamin Netanyahu has repeatedly said that the Jewish state will not retreat to the borders of 1967, and that the Golan Heights will "remain in the hands of Israel forever."