The footage, which was recorded on July 11, shows officer William Umana, a 17-year veteran with the force, pursuing a black 2002 Ford Expedition for some three minutes before drawing his firearm and shooting at suspects Fidel Miranda and Rene Nunez, who were in the vehicle.
The video ends with the SUV crashing into the wall of an elementary school and Umana shooting toward the vehicle.
​Miranda and Nunez caught the attention of police at around 7:30 a.m. local time when officers responded to a shooting at a car wash. The car chase began some two hours later after officers were able to locate the stolen Ford vehicle, Mercury News reported.
Assistant Sheriff Tim Kelly offered some clarity on the incident during a Monday news conference in which he stated that the murder suspects fired some 34 shots at responding patrol cars. Umana retaliated by firing 31 shots through his front windshield and his driver-side window.
Kelly went on to say the video will "show the story of the incident and really paint a picture of the dangers these officers dealt with that day."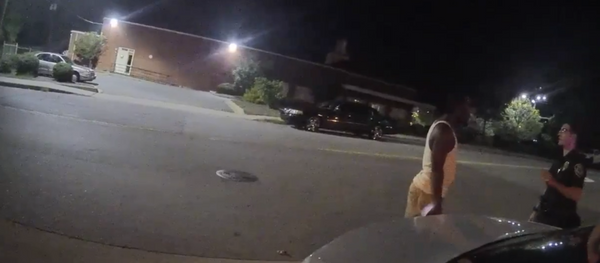 "When you see this video, you see that there's a significant amount of fire coming from the suspect vehicle in the mid morning," Kelly said. "We have citizens out on the roadway, we have citizens walking… we are just very lucky and fortunate that those suspects didn't hit an innocent bystander."
Umana and a plainclothes officer, Paul Soloman, were both praised as heroes by Kelly at the conference for trying to de-escalate the situation. Soloman came onto the scene after the SUV had crashed. Neither officer received any injuries during the chase.
Miranda was killed at the scene, and Nunez was taken into custody, where he received medical attention for an apparent gunshot wound. Although the shooting victim at the car wash was taken to a local hospital for his injuries, he was pronounced dead at 10:12 a.m. local time.
Nunez is facing multiple charges of murder with a deadly weapon and attempted murder with a deadly weapon, the Las Vegas Review-Journal reported. He was later placed at the Clark County Detention Center after receiving medical attention.
Umana and Soloman are currently on paid administrative leave as the department conducts an incident review, Arizona news station Fox 10 reported. This was the department's 10th officer-involved shooting and the fifth fatal officer-involved shooting in 2018.