The recent NATO summit exposed both hypocrisy and greed among a narrow group of political elite that continues to exploit Russia as a "threat," says Daniele Pozzati, an Italian journalist and political observer.
"They have created a 'Russian threat' because they needed a narrative to justify otherwise unpopular demands for increases in military expenditure," Pozzati told Sputnik. "The scope for corruption and wasting money that such increases bring with them is considerable."
The journalist recalled that when the Cold War ended, politicians and economists started to talk about "peace dividends" in a reference to the money that states could channel into infrastructure, education, and health. Instead, a NATO-Russia standoff is bringing "war dividends" to a very small group of elites, while putting all of Europeans at mortal risk, he stressed.
Europe is Playing Both Sides With Russia
Commenting on the recent NATO summit, the Italian political observer referred to Donald Trump's perplexity over Europe's playing both sides with Russia: "We are supposed to protect you against Russia but they [Germany and other European countries] are paying billions to Russia," Trump said, citing Europe's oil and gas deals with Russia and singling out Berlin.
On the one hand, European policy-makers and academics are beating war drums about the alleged threat from the East and imposing sanctions on Moscow, while on the other hand they continue to conduct business as usual with Russia. However, opinions differ within the EU bloc.
….On top of it all, Germany just started paying Russia, the country they want protection from, Billions of Dollars for their Energy needs coming out of a new pipeline from Russia. Not acceptable! All NATO Nations must meet their 2% commitment, and that must ultimately go to 4%!

— Donald J. Trump (@realDonaldTrump) 12 июля 2018 г.
"Berlin has adopted a Germany-first policy with regards to energy cooperation," Pozzati noted. "Instead of simply removing the EU's anti-Russia sanctions, or sticking to NATO's pro-sanctions approach, Germany goes its own way — and gets its way, thanks to its dominant position within the EU. It was about time that someone had the guts to call German hypocrisy out, and I am glad Trump did it."
Presidents have been trying unsuccessfully for years to get Germany and other rich NATO Nations to pay more toward their protection from Russia. They pay only a fraction of their cost. The U.S. pays tens of Billions of Dollars too much to subsidize Europe, and loses Big on Trade!

— Donald J. Trump (@realDonaldTrump) 12 июля 2018 г.
​How Germany and France Are Shaping 'EU's Russia Policy'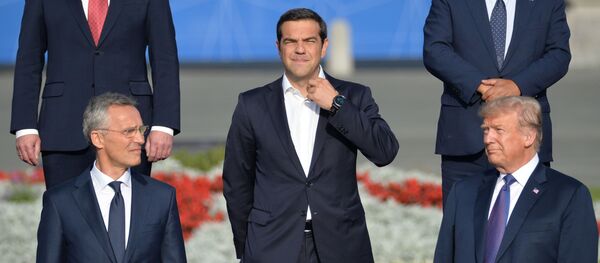 According to the Italian journalist, it is no coincidence that the US president has repeatedly pointed to Germany, while lambasting Washington's European allies for not meeting the 2 percent of GDP NATO commitment. He underscored that Germany has emerged as one of the major winners of the "EU project."
"Since the introduction of what Nobel Prize winner Joseph Stiglitz called 'the German Euro,' Germany has prospered at the expense of other EU countries," he stressed, "Italy, for example, has lost 20 percent of its manufacturing industry."
Pozzati recalled that the much-discussed Russo-European Nord Stream 2 project, which could turn Germany into the main energy hub in Europe, "was preceded by the cancellation of South Stream, a joint venture in which Italian energy giant ENI had a 30 percent stake."
"It is Germany and France that shape 'EU's Russia policy'," the Italian journalist highlighted. "For example, it is them that every six months decide on the renewal of anti-Russia sanctions. And in doing so, they mainly follow US guidelines."
Selling Political Independence for US Patronage
The NATO gathering that took place on July 11-12 in Brussels "had no real agenda worth discussing," Pozzati pointed out.
"'Unity in the face of Russian aggression' is a byword for 'let's stick to imaginary threats.' This is what happens when you don't have any real threats to deal with, but you still have to justify your continued existence, and your ever-increasing budget," the Italian political observer said.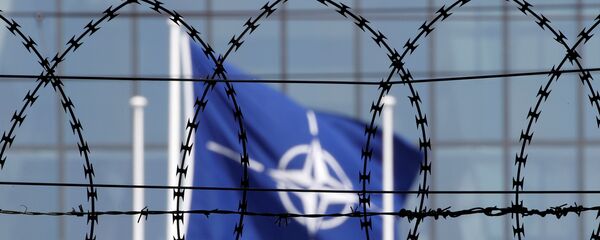 According to Pozzati,
there is no rift within the NATO allies
: The rift is between Trump and NATO.
"Trump clearly sees NATO as anachronistic and up to no good, as something standing on the way to a thaw in US-Russia bilateral relations," he underscored. "NATO is also an obstacle to the reduction of US military expenditures — still the largest in the world and bigger than all the other countries' combined."
Still, the political observer cast doubt on Trump's ability to fix the system.
"There was always an unspoken agreement within NATO: the US provided Europeans with a security framework, as well as much of the money needed to keep it running. In exchange, European countries would surrender much of their foreign policy to Washington, so that the US could lead, militarily and geopolitically, on both sides of the Atlantic," Pozzati said, adding that he does not see "how Trump could convince the US Deep State to give up on that."
The views and opinions expressed by Daniele Pozzati and Ekaterina Blinova are those of the contributors and do not necessarily reflect those of Sputnik.