The European Council's President Donald Tusk stated that the trade agreement sealed by Brussels and Tokyo sends a "clear message" against protectionism.
"Together we are making — by signing this agreement — a statement about free and fair trade, we are showing that we are stronger and better off when we work together," he added.
The trade deal was singed earlier in the day at the 25th EU-Japan summit by Japanese Prime Minister Shinzo Abe, European Commission President Jean-Claude Juncker and European Council President Donald Tusk. The accord was due to be signed last week during the EU-Japan meeting in Brussels; however, the summit was canceled because of the deadly flooding in Japan.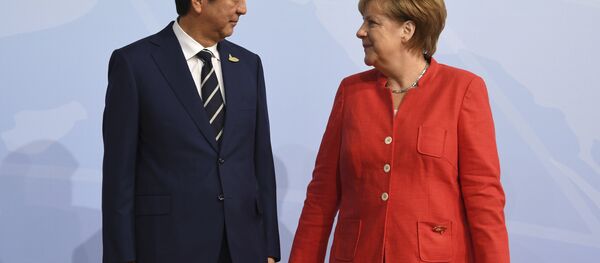 12 December 2017, 19:19 GMT
After the Japanese and European parliaments endorse the agreement, which stipulates scrapping 99 percent of import duties, it will become the largest trade bloc in history, covering about 600 million people and nearly 30 percent of the world economy's output.
The deal comes amid a major trade row between Europe and Washington, with US President Donald Trump trying to advance his protectionist stance. In March, the US imposed a 25 percent tariff on steel imports and a 10 percent tariff on aluminum imports from the European Union. The bloc heavily criticized Washington's move and in response, unanimously approved a set of retaliatory tariffs against the US trade duties, including those on whiskey and motorcycles.