Sacha Baron Cohen was shown the door at a California gun shop after attempting to pull a prank on it for his "Who is America?" Showtime series.
Shop owner Norris Sweidan believed his firm had agreed to participate in a documentary about a Hungarian immigrant trying to buy a firearm in the United States.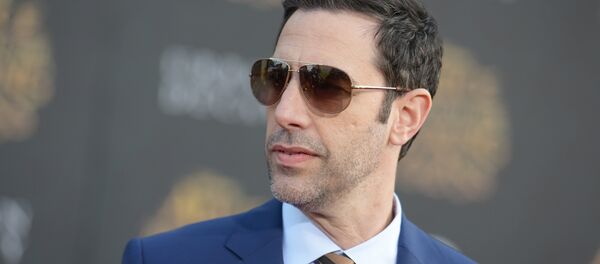 But, little did he know, the "Hungarian immigrant" in question would be Baron Cohen, the star of comedy films like "Borat: Cultural Learnings of America for Make Benefit Glorious Nation of Kazakhstan." The actor's heavy disguise, which included a massive beard and leather clothes, worked for only a few moments before Sweidan realized with whom he was dealing.
"He comes in, off the bat you can see in the video I'm looking like, 'This guy does not look like a Hungarian immigrant.' Tight-a** leather pants, a beard. It just didn't fit," he said in an interview for Fox News recounting the incident. "The moment his words came out of his mouth, I was like, 'This guy is full of s**t.'"
When the disguised Baron Cohen asked to buy a gun, Sweidan says he immediately recognized the voice and called the celebrity prankster out.
"I'm looking at the producer, and I'm just like, 'Am I being fooled right here?'" he said. "And I just kept looking at the guy and I was like, 'You're Borat,'" he said, recognizing Baron Cohen from the 2006 film.
According to the shop owner, as soon as the actor's cover was blown, he immediately fled the scene, leaving his film crew behind. Sweidan then turned to the show's producers in search of answers — which they couldn't give. Eventually, Sweidan sent the crew out of his store, too.
Sweidan gave FOX 11 footage of the encounter from the shop's surveillance cameras.
"Once I knew it was Borat, we already know his game and his bulls**t," Sweidan said. "So, we knew he's here to make a mockery, and of what? Gun owners? The gun business? Gun shops?"
Sweidan's somewhat passionate reaction is justified by the fact that Baron Cohen has already tricked several big names into doing interviews with him, many of which featured heavy anti-gun messages.
For the Sunday installment of his "Who is America?" show, Baron Cohen tricked several gun rights activists and US Congressional representatives into appearing in a fake advertisement for a program that would arm students as young as 4 years old in a mock effort to stop school shootings, Fox reported.
"He was fake, the producers were fake, the show was fake, and Showtime is fake to be honest with you," Sweidan added. "They want a real story, come talk to us. We'll give you a real story."