"Russian President Vladimir Putin uses Russia's natural gas to extort and threaten our allies and our partners," Barrasso said in the release. "The ESCAPE Act will take this geopolitical weapon away from Russia by sanctioning the Nord Stream II gas pipeline and facilitating the export of more American natural gas to our allies."
The Energy Security Cooperation with Allied Partners in Europe (ESCAPE) Act would authorize mandatory US sanctions on any development of Russian energy pipeline projects including Nord Stream 2, according to the text of the legislation.
READ MORE: 'Pure Ideology & Unfair Competition': Lavrov Slams US Claims About Nord Stream 2
It would also require the energy secretary to speed up approvals for US natural gas exports to NATO countries or other allies such as Japan in order to promote American national security interests.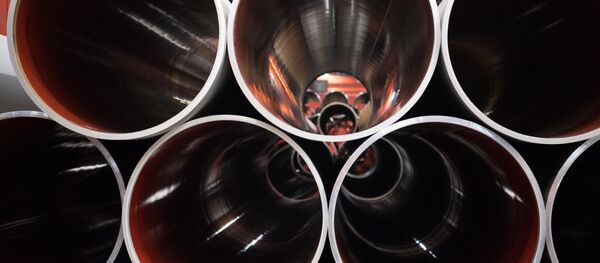 If passed, the legislation would also require the US administration to develop a comprehensive strategy to increase the energy security of the United States' NATO allies and partners, Barrasso said.
The US has repeatedly stated its opposition towards the Moscow-initiated Nord Stream 2 project. Earlier in June, the US State Department noted that companies working in Russian energy export can face restrictive measures, insisting that Russia's Nord Stream 2 gas pipeline threatens the EU's energy security and stability.
At the NATO summit in Brussels last week, US President Donald Trump lambasted Germany, saying that its heavy reliance on Russian oil and gas supplies was "inappropriate," and called Berlin "a captive" of Russia.
READ MORE: Trump Admits Germany's Right to Partake in Nord Stream 2 After Helsinki Summit
Germany, however, disagreed with Trump's stance, stressing that Berlin was not a prisoner of Russia or of the United States but "one of the guarantors of the free world."
Russia, in turn, stressed that US liquefied gas (LNG) suppliers were trying to force European consumers to buy more expensive gas, calling it a manifestation of "unfair competition."
Nord Stream 2 is a joint venture of Russian energy giant Gazprom and France's Engie, Austria's OMV AG, UK-Denmark's Royal Dutch Shell, and Germany's Uniper and Wintershall. The pipeline will run under the Baltic Sea from the Russian coast to a hub in Germany and have an annual capacity of 55 billion cubic meters. The pipeline is expected to be put into operation by the end of 2019.