Dame Margaret Hodge, a former cabinet minister and Labour MP for Barking, faces disciplinary measures from the party after confronting her party leader and slamming him as an "anti-Semite and racist."
Corbyn's spokesman pledged to take action against Ms. Hodge as internal rules forbid MPs from "acting in a way that is disrespectful or brings the party into disrepute". He also described Hodge's comments as "clearly unacceptable."
The Labour grandee defended her actions, saying that she chose to stand up to Jeremy Corbyn "directly and personally to express my anger and outrage."
The internal row has been rocking Labour ever since its ruling body adopted its own definition of anti-Semitism on Tuesday, which faced a backlash from the Jewish community and some MPs.
READ MORE: 'On the Wrong Side': Labour Party's New Anti-Semitism Code Draws Criticism
"Instead of adopting the international definition agreed upon in 2016 in the wake of the rise of antisemitism across Europe, the party chose to omit key examples used in that definition and rewrote the definition to weaken and change it," Margaret Hodge said.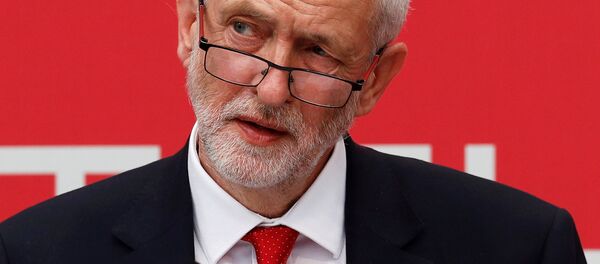 Jeremy Corbyn has earlier faced accusations related to anti-Semitism. In March, a complaint was filed with the Labor Party's ruling body to accuse him of bringing Labor into disrepute. In 2012, it claimed, Corbyn offered support to a graffiti artist, who allegedly depicted Jews playing Monopoly on the backs of naked people, on the grounds of free speech. Jeremy Corbyn responded that he regretted his comments and opposed "the production of anti-Semitic material of any kind."