Commenting on the reports that police have identified Russians behind the Skripal poisoning, UK Security Minister Ben Wallace dubbed them as "ill-informed, wild speculation."
"I think this story belongs in the 'ill-informed and wild speculation folder," Ben Wallace said on Twitter.
According to the Russian Foreign Ministry, if the UK classifies the Salisbury and Amesbury cases, Moscow will interpret it as an attempt to hide the masterminds and perpetrators of these crimes.
At the same time, Russian Ambassador to the UK Alexander Yakovenko said that Russia intended to exert political pressure on the UK side in the Skripal case.
"These are reports in the media, no official statements of the British side, unfortunately. I want to hear from Scotland Yard, from the Foreign Office. Many versions in the newspapers are not confirmed at the official level," Yakovenko said.
READ MORE: UK Home Secretary Claims 'Novichok Used' in Amesbury 'Same as in Skripal Case'
According to him, the embassy has repeatedly asked the British Foreign Ministry to confirm various versions but hasn't received any substantive answers.
Alexander Yakovenko intends to meet with the new head of the British Foreign Ministry, Jeremy Hunt, and discuss bilateral relations and the Skripal case.
"I was just informed at the embassy that I received a letter from the First Deputy Minister of Foreign Affairs, where the new Foreign Minister sends me greetings, and I plan to resume my offer to meet with Foreign Minister Hunt and discuss Russian-British relations. I did not get such a meeting with the previous minister [Boris] Johnson, I think he did not have the opportunity to operate on certain data," Yakovenko said on the eve of the ambassadors' meeting.
On March 4, 2018, the Skripals were found unresponsive on a bench at a shopping mall in the British town of Salisbury after they were exposed to what UK experts claimed was the A234 nerve agent.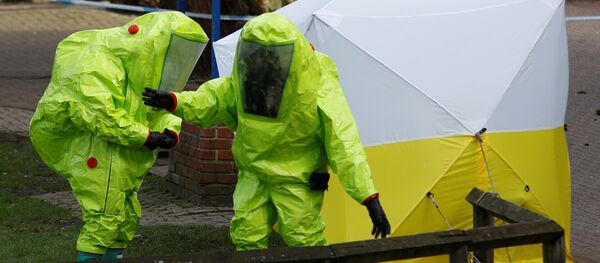 UK Prime Minister Theresa May rushed to a conclusion, saying that it was "highly likely that Russia was responsible for the act against Sergei and Yulia Skripal," something that was vehemently rejected by Moscow, which called the accusations "absurd".
Russian Foreign Minister Sergei Lavrov, for his part, signaled Moscow's readiness to provide assistance in the probe, while at the same time stressing that Russia hadn't been provided with any specific facts proving its involvement in the Skripals' alleged poisoning.
London has refused to cooperate with Russia on the case, or provide samples of the substance allegedly used against the Skripal family.