Emilia Holden, 21, was sorting menus at Vinnie Van Go-Go's, a New York-style pizzeria in the coastal city of Savannah, on June 30 when she found herself having to defend her dignity.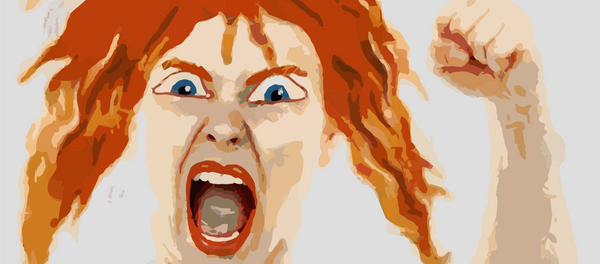 2 January 2018, 12:04 GMT
Ryan Cherwinski, 31, of Palm Bay, Florida, was on his way out of the pizzeria around 11 p.m. and walked behind Holden, who was standing next to a table. As he passed, he copped a feel of her butt without breaking stride, Savannah Now reported.
What happened next was a take down of epic proportions.
"I just did what I felt was best," Holden said. "I took the guy down and had my co-workers call the police." She grabbed Cherwinski by the back of his shirt collar, stopping him in his tracks. She then pulled him back further, throwing him off balance, before turning to the side and slamming him into a wall and then into the table she had been working at. At the end of the video, she can be seen berating him as he lies, shaken, against the table.
​​The video was posted on Reddit July 16 under the category "Justice Served" by someone claiming to be Holden's cousin, and shows footage of a CCTV camera screen.
"My cousin takes this pervert down for grabbing her ass. He is later arrested in front of his wife and 2 kids when the cops arrived." The video had 51,000 upvotes when this story went to publication.
When police arrived, they watched the CCTV footage, which corroborated Holden's retelling of the events, police spokeswoman Bianca Johnson said, and they placed Cherwinski under arrest.
Cherwinski was charged with sexual battery and spent a few nights in jail awaiting his appearance before the judge, the Daily Mail noted.
"All that I want from my experiences is for women to know that it's okay to stand up for yourself, 'Holden said, according to Raw Story. "You have every right to wear what you want, and you most certainly have every right to defend yourself."