Locals found the remains of the large sea creature on Higgins Beach in Scarborough, Maine. The corpse is about 15 feet long and 4 feet wide and weighs about 500 to 600 pounds, according to NBC local affiliate WCSH.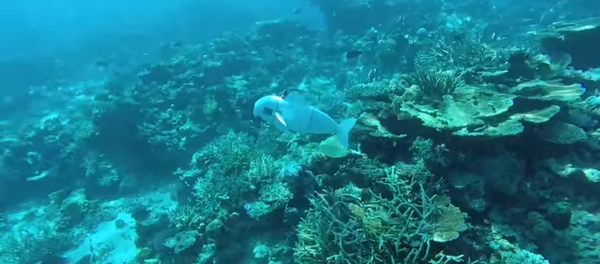 "Some blob of something had washed up on the shore," said Chris Blair, who explored the carcass with his son, Cooper. "It was pretty gross."
James Sulikowski, a shark expert from the University of New England, said it might be the remains of a basking shark or possibly a whale, but he noted that the carcass was badly decomposed, so it's hard to be sure. It had been floating in the water and decomposing for quite a while.
A poll on ABC 13 asked local viewers Thursday "what creature washed up on Higgins Beach?" Voters selected shark (55 percent), whale (22 percent), Basilisk (0 percent) and White Walker Dragon (22 percent).
Regardless, "It smelled like a bad, hot day at a fish market," Blair noted. "It was pretty foul."
Local resident Amy Cesar posted photos of the blob on her Twitter account July 19 with the caption "basking shark?"
They noted the find came "just in time for Shark Week," an annual week-long TV program on the Discovery Channel about Americans' favorite sharp-toothed Selachians. Shark Week 2018 begins July 22.
​The Public Works Department had to remove the carcass with a bulldozer and a dump truck.
Such unidentifiable masses of decomposing sea animals are called "globsters," a portmanteau of "glob" and "lobster" coined by Scottish biologist Ivan T. Sanderson in 1962 to describe another mysterious carcass that washed ashore on the island of Tasmania. Because so many creatures die at sea and so many sea creatures are very massive, their remains only slowly decay or get eaten, and bones can fall away and sink as other parts decompose, meaning that when the remaining parts of the animal wash ashore, they're often impossible to identify.
Throughout history, people have thought that globsters were the remains of sea serpents, sea monsters or, more recently, dinosaur-era creatures thought to be extinct, such as plesiosaurs.