"If we think about how the current situation [trade war between China and the United States] could affect the Russian-Chinese relations, then, in my view, the current conditions can provide new opportunities for Moscow and Beijing to expand cooperation and increase trade," Huo Jianguo, the former director at the Research Institute of China's Commerce Ministry, said during a discussion organized on the platform of the All-China Journalists Association.
According to the expert, the two countries have the chance to further intensify bilateral trade, especially in light of China's recent announcement of its plans to lower tariffs on certain types of goods from neighboring countries.
"Thus, the bilateral trade between Russia and China can grow gradually, along with the variety of areas of cooperation [between Moscow and Beijing]," Huo stressed.
Samuel M. Fegtly Professor of Law at the University of Arizona's James E. Rogers College of Law David A. Gantz expressed similar views by saying that the US-China trade war could benefit Russia-China trade relations to some extent.
"I suspect that China-Russia trade will benefit somewhat from the US-China trade war but I don't know what China can purchase from Russia that they are not already buying, such as petroleum and some raw materials. For example, it doesn't seem likely that China would import autos from Russia. Perhaps there will be opportunities in the medium term for Russia to produce more soybeans and similar crops for export to China, with China providing the financing for developing new large farms in nearby Russia," Gantz told Sputnik.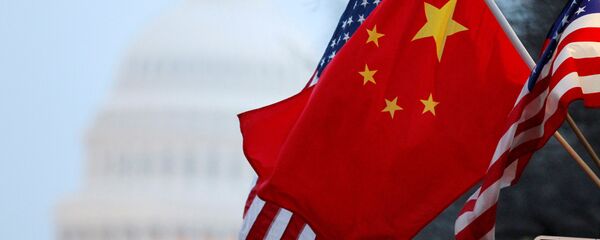 Among other potential beneficiaries, Gantz named Canada, Australia, Japan and perhaps the European Union, adding, however, that they already import large volumes of intermediate and finished goods from China and may not have much capacity to rise their imports.
"In terms of Chinese imports, one can reasonably expect that Boeing will lose sales to China — its largest customer — with the EU's Airbus reaping the benefits. Korea, Japan and perhaps Canada might be able to increase auto exports to China, particularly if China were to lower its high tariffs on cars. In terms of agricultural products, Brazil, Argentina, Canada and Australia seem likely to benefit most from China's desire to diversify its imports away from the US," Gantz stressed.
More Job Disruption Among Other Potential Outcomes
Gantz said the effects of the US-China trade war are "to a great extent speculative." According to the professor, if the trade war lasts more than six months it could cause more job disruption, with smaller companies "going out of business" and other firms moving some or all of their production abroad.
READ MORE: China's Commerce Ministry: Beijing Will Continue Trade With Tehran
"It seems inevitable that there will be a decrease in manufacturing jobs in the US but because US employment is very low, around 4%, many of those who lose their jobs will be able to find alternative employment quickly, at least for the time being… For the US, the tariffs if fully applied —and this also remains uncertain — the costs of manufacturing various goods in the US will increase, in some cases even to the point of requiring US businesses to close their doors or move production to other countries," the professor underlined.
At the same time, Gantz suggested that in the short and medium term US-China trade will likely to continue "at a significant level."
"China in the short term will still need to purchase some commodities such as soybeans from the US because the alternative supplies such as Brazil are not sufficient to replace US exports. Similarly, US manufacturers will not be able to substitute quickly such products as auto parts and consumer electronics with those from Vietnam, Indonesia, Malaysia or other countries, or from US parts sources. If the tariff war continues for more than six months or so manufacturers in both countries will make more changes in their existing supply chains," Gantz noted.
The United States and China are currently engaged in major trade fight. On July 6, US 25-percent tariffs on $34 billion of Chinese goods entered into force, prompting reciprocal action from Beijing. The United States later threatened to impose 10 percent tariffs on another $200 billion of Chinese goods. The two countries had several sessions of trade negotiations but US President Donald Trump's top economic adviser Larry Kudlow said on Wednesday that the talks have stalled at the moment.
Views and opinions expressed in this article are those of the contributors and do not necessarily reflect those of Sputnik.