Moscow will demand that Washington release Butina and allow her to return to Russia, the Russian ambassador to the United States, Anatoly Antonov, said.
Anatoly Antonov called the detention of the Russian woman, Maria Butina, a farce and expressed hope that she would not be "broken" in the US.
"This is some farce, some kind of comedy — what is happening today in the United States of America. This is a farce — what they do. These accusations are absolutely illegal," Antonov said, speaking on Friday at the Valdai Discussion Club venue.
He believes that they are trying to "break" her in the United States, citing "attempts to prevent Russian diplomats from meeting with this girl, to break her, as a matter of fact."
"Perhaps she was in our Russian Embassy. You cannot even imagine how many compatriots come to the Russian Embassy for various kinds of cultural events, concerts," Antonov said at the Valdai Discussion Club.
READ MORE: Russian Activist Butina Pleads Not Guilty in Washington Courtroom, Bond Denied
The ambassador added that Butina might have possibly approached him during one such event, and "somebody took a picture of it."
"I do not rule out that tomorrow we will see some kind of 'fake photo news' about the fact that she was talking with me and the day after tomorrow they will claim that she received instructions from me," Antonov added.
The 29-year-old Maria Butina was arrested by US authorities and charged with conspiracy to act as a foreign agent and impersonating an agent of a foreign government.
She denied both charges in federal court in Washington on Wednesday but was remanded in custody without bail, as she is considered a flight risk.
READ MORE: US Justice Dep't Claims Butina Was in Contact With Russian Intel Officers — Docs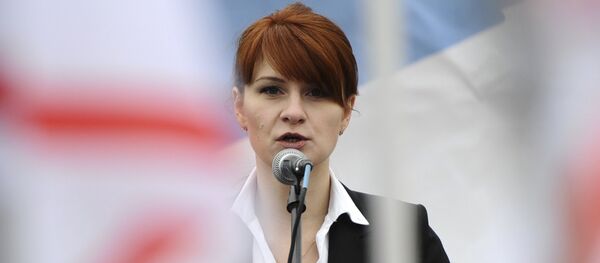 Butina faces up to 15 years in US jail for acting as an unregistered agent for a foreign government and conspiracy.
Russian diplomats were granted access to Butina on Thursday. The Russian Embassy has also asked the United States for a formal explanation with regard to Maria Butina's detention.
The Russian Foreign Ministry in a post on its official Facebook page said that due to the arrest in the United States of Russian citizen Maria Butina, a flash mob was launched to support her: #FreeMariaButina.
Butina is a longtime advocate of gun rights in Russia who developed ties with US citizens who shared an interest in defending those rights, namely the National Rifle Association (NRA).