The results of a Forsa poll for N-TV and RTL released on Monday show that a majority of Germans believe that work on the construction of Nord Stream 2 should continue.
According to the survey of around 1,000 people, 66 percent of respondents said that they want Nord Stream 2 to happen "to ensure unfettered supply of natural gas to Germany."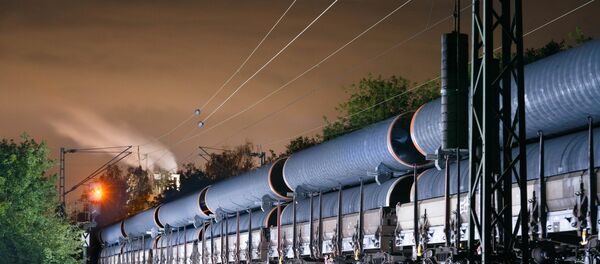 Only 23 percent spoke against the project, which they fear could make the country more dependent on fuel supplies from Russia.
Nord Stream 2, which is a joint venture of Russia's Gazprom with France's Engie, Austria's OMV AG, UK-Dutch Royal Dutch Shell, and Germany's Uniper and Wintershall, aims to deliver 55 billion cubic meters of Russian natural gas a year to the European Union across the Baltic Sea to Germany.
An extension of the existing Nord Stream pipeline, the 1,200 kilometer (745 miles) Nord Stream 2 will run through the territorial waters of Russia, Finland, Sweden, Denmark and Germany. The Nord Stream —2 is scheduled to become operational at the end of 2019.
Some countries, that are afraid of losing revenues from Russian gas transit, above all Ukraine, are opposed to Nord Stream 2. The project is also facing opposition from the United States, which has ambitious plans to export its own LNG to Europe.
Washington has repeatedly warned European countries not to take part in Nord Stream 2, threatening to impose sanctions on European energy companies involved in the project. According to Washington, Nord Stream 2 violates the energy security of the EU and also undermines the interests of Ukraine.
READ MORE: Germany Can't Accept US Position on Nord Stream 2 — AfD Head Meuthen
Germany, Sweden, and Finland have already given permission for the pipeline's construction in their territorial waters; the only country that remains undecided is Denmark.
Russia has repeatedly urged its European partners not to perceive the Nord Stream pipeline as an instrument of influence. According to President Vladimir Putin, Moscow considers the project as an entirely economic one.