On Tuesday, Macron met with lawmakers from his party La Republique En Marche! and denounced Benalla's behavior as a betrayal.
"I'm to blame… If anyone is looking for who is responsible, it's me and me alone. I'm the one who trusted Alexandre Benalla," Macron said later on Tuesday talking to supporters in Paris as quoted by The Guardian newspaper.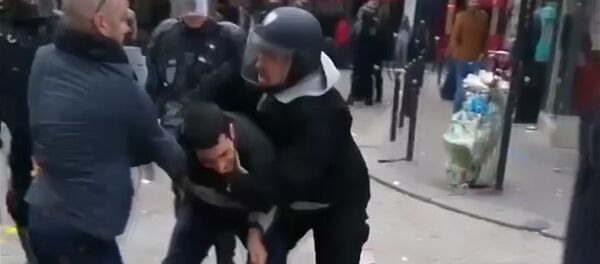 Representatives of opposition parties have repeatedly urged Macron to express his opinion in connection with the situation around Benalla, who was a close presidential aide and reportedly a member of president's inner circle.
The high-profile case broke out after a May 1 video emerged capturing Benalla in riot police gear. On the video, the man tackled a young rioter to the ground and punched him repeatedly before fleeing. Last week, the Elysee Palace announced the decision to launch Benalla's firing procedure.
READ MORE: Macron Intends to Reorganize Cabinet Following Aide's Misbehaviour — Reports
On Sunday, Benalla was indicted and placed under judicial control. Benalla has been slapped with multiple charges, including violent acts, interfering in the work of public services, wearing an official insignia without authorization, concealing video materials and breaching professional secrecy.