The average great white is between 11 and 15 feet long, according to Discovery, but Deep Blue, as this shark has been named, is considerably larger. Researchers estimate her to be around 50 years old.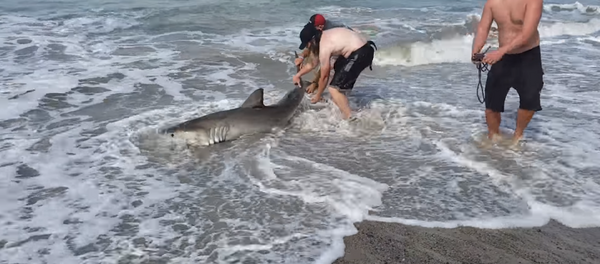 The incredible footage of Deep Blue was captured in 2013 off the Pacific coast of Mexico's Guadalupe Island by shark conservationist Mauricio Hoyos Padilla. Researchers said she was pregnant at the time, the New York Post reported.
The giant shark has surged in popularity, even getting its own Twitter account, @Deep_Blue_Shark.
In the video, Deep Blue is seen slowly and peacefully lumbering around the diving cage. She momentarily takes an opportune snap at a diver (she is a shark, after all!), but soon moves away as the diver returns to give her a "high five" as she passes.
During the encounter, the scientists tagged Deep Blue, so they could track her movements.
A 2014 study concluded that, while great white sharks are difficult to accurately discern the age of, the average life span of one of the world's largest predators is around 70 years.
While the great white is not the largest toothed predator on Earth — that distinction goes to the Sperm whale, whom only squid need fear — it does seem to be the most notorious. National Geographic noted that, despite the reputation in the popular mind created by films like "Jaws," great whites are not "ferocious man-eaters" and generally only attack humans if they mistake them for other, tastier prey, such as seals, or if they're really hungry.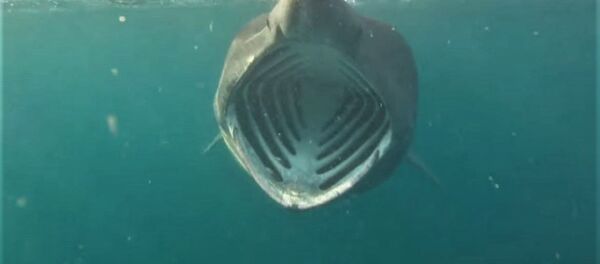 Still, the New York Post felt it necessary to point out that Deep Blue wouldn't be able to take on one of the great white's only natural predators — orcas — despite her hefty hulk. Orcas are bigger and much smarter than great white sharks and often hunt with coordinated pack-like strategies.
Last year, Gizmodo reported that dozens of mutilated white shark corpses had washed ashore in South Africa and posted horrifying drone footage of a pod of orcas tearing a young white shark to pieces.