Mattis has refused to appear in on-camera press conferences at the Pentagon since April, Politico reports. He's apparently making good on his warning to reporters complaining about access back in August 2017 that he "could make it a lot more rigid, trust me."
Meanwhile, chief Pentagon spokesperson Dana White hasn't been to a filmed presser since May.
The Pentagon has also been tight lipped about Mattis' public appearances. Public appearances used to be announced in advance; lately, they haven't been, making it difficult for DOD beat reporters to both keep tabs on him and show up to hear him out or maybe ask a question.
Mattis spoke with reporters Tuesday at a press conference with Secretary of State Mike Pompeo, which was announced by the State Department but was not mentioned in the daily schedule the DOD sends to media.
Two nights prior, Trump issued his late night, all-caps ultimatums to Iran, leaving many wondering whether the US might attack. The next day, the Pentagon cancelled its Monday press gaggle.
Earlier in July, reporters sparred with Pentagon briefers during a conference about the location for a new command. One reporter asked Army Chief of Staff Gen. Mark Milley about a terrorist attack in Afghanistan that killed an American soldier, but the DOD press officer jumped in to tell the reporter they were only taking questions about the new compound. Another reporter opened with a question about the command but continued: "we don't have an opportunity to see you enough, Gen. Milley," and then asked a question about NATO. She was also rebuffed.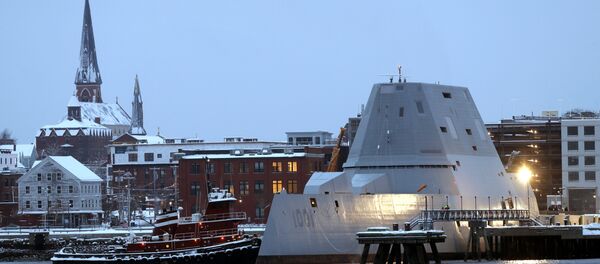 11 February 2018, 20:13 GMT
The hush-hush posturing isn't because of the old military adage "loose lips sink ships," according to Defense One executive editor Kevin Baron, who has covered the Pentagon for a decade. He placed the blame for the decline in access on Trump's war on the press, which the president has called "the enemy of the people." 
In the Trump era, it seems everything is political, and anyone tangentially related to the president could be next on the chopping block. "The military leaders are doing everything they can to keep the military out of politics, and in trying to do that, they're keeping themselves out of the press, or they're being told to stay out of the press," Baron told Politico.
Baron said that the reporters who strayed from the topic of Milley's presser did eventually get answers to their questions — behind closed doors and "invisible to the cable news watcher in chief," according to Politico.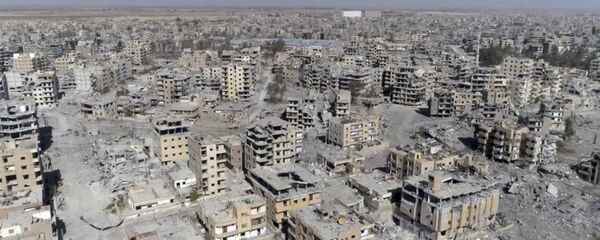 One reporter was incensed. "This idea that a four-star general is only going to speak on the topics that he wants to talk about, absolutely not. You are sending other people's children into harm's way. You have to answer for that," he raged.
Meanwhile, the Pentagon's 2018 taxpayer-funded budget leaped a whopping 15.5 percent over 2017, totaling $94 billion, Sputnik News reported.
Another told Politico that editors at his news outlet are responding by sending reporters to the Pentagon on increasingly rare occasions. "It's just a waste of time," he said.
The decline comes at a time of grave importance, as the 17-year war in Afghanistan is reaching new heights, according to available data. The Special Inspector General for Afghanistan Reconstruction (SIGAR) has kept comprehensive data on US sorties and munitions deployed by US aircraft in the country since 2009. The year that saw the most was 2011; however, 2018 is so far outpacing it.
© SIGAR /
June Special Inspector General for Afghanistan Reconstruction (SIGAR) report shows the US is on pace to drop more bombs in Afghanistan than any year on record.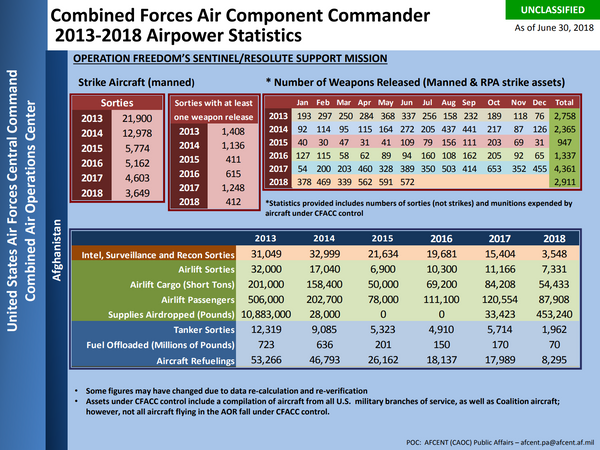 June Special Inspector General for Afghanistan Reconstruction (SIGAR) report shows the US is on pace to drop more bombs in Afghanistan than any year on record.
By the end of June 2011, US aircraft had dropped 2,458 bombs in the country that year. By the same month in 2018, that number was 2,911.
Meanwhile, the US military dropped 44,096 bombs in total in 2017 — Trump's first year as president. Obama dropped 31,000 in his last year in office and dropped an average of 345 bombs per day during his presidency. That figure for his predecessor, George W. Bush, is 24.
Trump's first year figure breaks down to 121 bombs a day, or one every 12 minutes. If the ramping up of bombings in Afghanistan is any indication of global deployments, 2018 will be a very wild ride — one of which we'll be largely ignorant, should the Pentagon continue to keep its lips sealed.