The player photos turned out so poorly that, in one case, the Washington Wizards deleted a post featuring a brutal mug shot of star point guard John Wall.
© @WashWizards (screengrab)
John Wall Team USA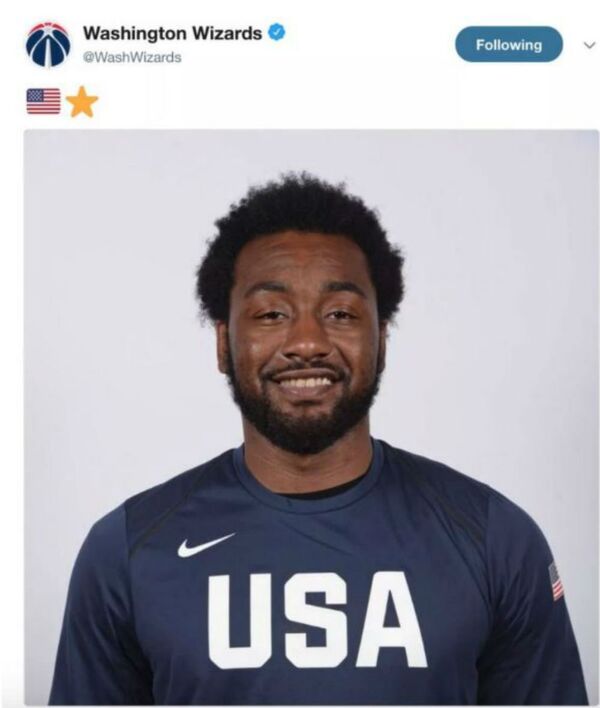 John Wall Team USA
© @WashWizards (screengrab)
"John Wall I got a barber in the DC area if you need him," liltony09 said on Instagram.
John Wall looking ALERT and READY for Team USA Camp pic.twitter.com/0imp0RJfUk

— DRAFT (@PlayDraft) July 26, 2018
Ms. Wall was absolutely not impressed.
​San Antonio Spurs guard DeMar DeRozan didn't have much better luck.
i'm getting worried about team usa basketball pic.twitter.com/oj3jKZXUe9

— Jordan Heck (@JordanHeckFF) July 26, 2018
​But it was Wall who was first to become a meme.
John Wall: profile pic vs. tagged photo pic.twitter.com/yDj0L8H6dC

— Ashley Young (@young_ashleye) July 26, 2018

One daring netizen even formally proposed Wall become the new "10 guy."
I'd like to formally nominate John Wall as the new "10 Guy". I miss that meme. It needs a comeback anyway pic.twitter.com/WeJ6PKTkxs

— Ben Cutler (@TuckerThaTruckr) July 26, 2018
​Detroit Pistons dunk artist Blake Griffin drew comparisons to Frankenstein and "King of the Hill."
"I sell propane and propane accessories" pic.twitter.com/ROfFmWO7WF

— Top flight security of the world (@MoneyMitch_44) July 26, 2018
Some Twitter users speculated that the photographer had no sense of lighting and mistakenly used a wide-angle shot for close-ups, which can change how faces look in pictures.
they look kind of like the Beatles photos after they discovered LSD

— John Lurie (@lurie_john) July 26, 2018