White House National Economic Council Director Larry Kudlow praised Juncker in an interview with Fox News Business, saying that the EU chief had pledged to Trump that Brussels would help Washington confront China over its alleged unfair trade practices.
"US and EU will be allied in the fight against China, which has broken the world trading system, in effect," Kudlow said. "President Juncker made it very clear yesterday that he intended to help us, President Trump on the China problem."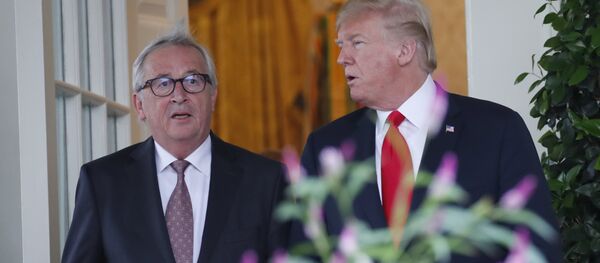 Kudlow also expressed gratitude to Trump for "leading" the effort to negotiate with the Europeans in a "tough" manner. "He was willing to be flexible and tough. He's a good negotiator. And full credit to the EU. I want to give a lot of credit to the #2 in the EU, Martin Selmayr," the senior economic adviser said.
"When President Trump heard that the EU was willing to buy an enormous volume of soybeans, was willing to purchase an enormous volume of LNG, was willing to help Europe with pipelines so they wouldn't have to depend on Russia, when he heard that the EU was willing to open the door to beef purchases – the president as you know has been saying he's a reformer; he's been saying he wants zero trade tariffs, zero trade barriers, zero subsidies, and these were transactional," Kudlow said.
Kudlow stressed that the process to implement the US-EU agreements reached Wednesday would begin immediately. "The EU came with a positive attitude; our side had a positive attitude. We are going to get to work immediately on these issues, and then we will deal with the larger picture of tariffs and standards for example, and non-tariff barriers and subsidies," he said.
Earlier this month, President Trump threatened to slap 20 percent import duties on all vehicles imported from the EU. The warning came after Brussels slapped $3.3 billion worth of US goods including blue jeans, motorcycles and liquor with tariffs in retaliation to Trump's 25 percent tariffs on steel and 10 percent duties on aluminum.
On Wednesday, Chinese President Xi Jinping stressed that China was looking to avoid a trade war with the US since such a war could have no winners. "Those who pursue this course will only end up hurting themselves," he said. Xi's remarks came the same day Trump accused Beijing of staging a "vicious" attack on US farmers. China has warned that it would respond in kind to protect its interests amid an escalating trade conflict with the US.