While negotiations with the European Union are ongoing, "steel and aluminum tariffs stay in place," Ross told reporters.
The trade secretary also assured that Washington would not introduce automotive tariffs during the talks with the transatlantic partners.
"In terms of auto tariffs, we've been directed by the president to continue the investigation, get our material together, but not actually implement anything pending the outcome of the negotiation," Ross said. "What we've agreed is not to impose automotive tariffs while the negotiations are under way. There's really no change to that situation."
The secretary's statement comes after US President Donald Trump and European Commission President Jean-Claude Juncker announced that during their talks in the White House on Wednesday, they reached an understanding on lowering barriers between the two sides.
READ MORE: Trump's Wishful Thinking: Why EU is Unlikely to Become 'Massive Buyer of US LNG'
Earlier in July, Trump  proposed a mutual cancellation of "all tariffs, barriers and subsidies" in trade with the European Union in order to provide for a "fair trade." However, The Washington Post reported, citing three people briefed on discussions in the president's inner circle, that Trump still intends to go ahead with plans to slap 25 percent tariffs on nearly $200 billion in foreign-made automobiles later this year.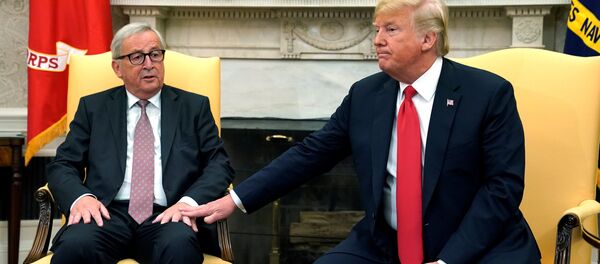 EU Trade Commissioner Cecilia Malmstrom announced that if Washington finally decides to impose duties on European cars, the EU Commission will introduce tariffs on US goods worth at least $20 billion.
The EU-US trade relationship has been tense since President Donald Trump imposed high tariffs on steel and aluminum imports in June. The European Union imposed its own barriers on US goods after Trump lifted the EU's exemption from those tariffs.