Senior government officials from Canada, the European Union, Japan, Mexico and South Korea will be meeting in Geneva on July 31 to discuss a response to President Donald Trump's threat to impose tariffs on US imports of autos and car parts, Reuters reported citing officials close to the upcoming talks.
Washington's threat to levy tariffs of up to 25 percent has invited the ire of foreign automakers and others who fear that the proposed measure will send vehicle costs sky-high, hampering sales and industry jobs worldwide.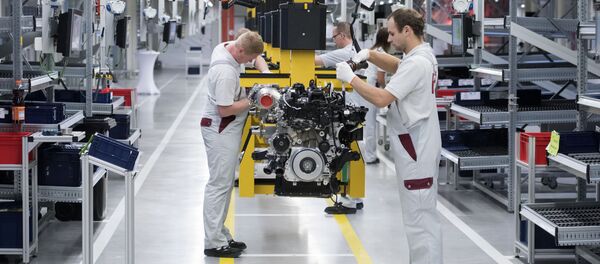 Wary of the prospect, several auto-making nations have been mulling a coordinated response.
It is not yet clear exactly what this response will look like though. Earlier, Canada, Mexico and the EU retaliated with their own charges after the Trump administration slapped tariffs on steel and aluminum imports in March.
Another option is to counteract US measures by bringing the matter before the World Trade Organization.
Mexico's Deputy Economy Minister Juan Carlos Baker will be meeting with WTO chief Roberto Azevedo in Geneva on Monday to discuss the auto tariff issue, in consultations that will also include his Canadian colleague Timothy Sargent and Japan's Senior Deputy Foreign Minister Kazuyuki Yanmazaki.
US tariffs on auto imports could also hit Korea's Hyundai, Japan's Toyota and Germany's BMW along with global factories of America's very own General Motors and Ford.
The Japanese economy relies heavily on exports to the US, particularly of automobiles, with cars making up around 30 percent of Japan's total exports to the United States.
Even though Washington's agreement on Wednesday not to impose tariffs on the EU in exchange for lowered trade barriers for US exports products has eased fears of a full-fledged  trade war, Trump's decision will not be known until the end of an ongoing US probe into whether auto imports pose a threat to US national security.
Although hopes of a breakthrough in US-EU trade talks buoyed carmakers' spirits on Thursday, the upcoming meetings in Geneva mean that auto-producing nations are bracing for the worst.
READ MORE: EU Ready to Unveil Tariffs on US Goods Worth $20 Bln Amid Trump-Juncker Talks
The White House's decision to levy tariffs on steel and aluminum imports from Mexico and Canada have rendered null and void past trade agreements with its two immediate neighbors forcing Mexico City and Ottawa to respond in kind.
America's relations with its European allies are no better either. On June 25 the EU said it would charge tariffs of 25 percent on $8.2 billion worth of imported US goods in response to earlier imposed US tariffs on EU steel and aluminum.
As if that were not enough, President Trump has threatened a 20-percent duty on imported European cars, which accounts for a sizeable 10 percent of the overall trade turnover between the US and the EU.