A 22-year-old discus thrower, Daisy Osakue, who was born to Nigerian parents in Italy and holds Italian citizenship, was crossing a Turin road when she saw a car speeding toward her and felt "a very strong blow to the eye" – it turned out that a driver threw an egg at her, striking her right in the left eye.
"I fell to the ground I felt liquid, I was terrified thinking it might be acid. I'm ok. Unfortunately, I have an abrasion and some lesions on my cornea and liquid on my retina, but with rest, drops and cortisone I should be fine," said Osakue, who was taken to a hospital after the assault and is wearing a bandage over her left eye.
Osakue believes that it was a racially-motivated attack and alleges that she was mistaken for one of the African prostitutes who usually work in the area.
"I don't want to play the sexism or racism card, but people should be able to go out without someone attacking you out of the blue. I believe they were looking for a person of color, a woman. There are prostitutes working in that area and I think they mistook me for one of them," she told Italian TV.
Doctors said that Osakue, who holds the Italian under-23 record for the discus, should recover in time to compete for Italy in the upcoming European Athletics Championships in Berlin.
Police are reportedly investigating the incident to determine whether the attack was racially motivated; according to the Italian newspaper, La Repubblica, citing investigators, the same car had previously been spotted in similar egg-throwing episodes. The most recent incident took place on July 25, with three women being hit by eggs hurled out of the same passing car while leaving a street restaurant.
Opposition Warns Gov't of Being 'Complicit' in Racist Attacks
In light of the attack, media, activists and a number of politicians, including former Prime Minister Matteo Renzi, lashed out at the new right-wing government and Italy's Interior Minister Matteo Salvini.
TWEET: "#DaisyOsakue is an Italian champion. Yesterday she was savagely beaten up by lousy racists. Attacks against people of different color are an EMERGENCY. This is now obvious, NOBODY can deny it, especially if they sit in government."
#DaisyOsakue è una campionessa italiana. Ieri è stata selvaggiamente picchiata da schifosi razzisti. Gli attacchi contro persone di diverso colore della pelle sono una EMERGENZA. Ormai è un'evidenza, che NESSUNO può negare, specie se siede al Governo. Italia, #torniamoumani

— Matteo Renzi (@matteorenzi) 30 июля 2018 г.
The Minister of Agricultural, Food and Forestry Policies under Renzi, Maurizio Martina, who is now the leader of the center-left Democratic Party, also tweeted: "Anyone who denies the spiral of racism that's growing in our country makes themselves complicit."
Meanwhile, Italy's first black Cabinet minister and MEP Cécile Kyenge wrote on Twitter that Osakue was the "umpteenth victim of racist violence."
"A very strong hug to #DaisyOsakue, the umpteenth victim of racist violence. Let's not surrender to this climate of hate," she tweeted.
The southern European chief of the UN refugee agency, Felipe Camargo, also voiced concern over the situation:
"We cannot tolerate this escalation of indiscriminate violence, which reveals an alarming racial matrix," he said.
Responding to an overwhelming backlash, Matteo Salvini made a statement on Monday, dismissing the "racism emergency in Italy" as "nonsense."
"Is there a racism emergency in Italy? Let's not talk nonsense. The mass immigration permitted by the left in recent years has not helped, which is why I'm working to stop human traffickers and illegal immigrants. Every attack should be punished and condemned. I will always be at the side of those who suffer violence," he stated, wishing Osakue a speedy recovery.
Later he posted a collage of photos featuring him with people of color and tweeted: "A reminder to do-gooding politicians and journalists that I do not judge people based on their skin color, I divide them into good people and criminals. There is a future in Italy for the former, but not for the latter."
Ricordo a politicanti e giornalisti buonisti che io non giudico le persone in base al colore della pelle, io le divido fra persone perbene e delinquenti.
Per i primi in Italia c'è futuro, per gli altri no! pic.twitter.com/S3YSvUA250

— Matteo Salvini (@matteosalvinimi) 30 июля 2018 г.
Since taking office, Salvini, who is also the leader of the right-wing League party, which is part of the governing coalition, has pushed immigration to the forefront of the political agenda. Last month, Italy refused to take in an immigrant rescue ship, the Aquarius, stranded in international waters with more than 600 people on board, thus sparking a diplomatic row with France, who described Rome's move as "irresponsible."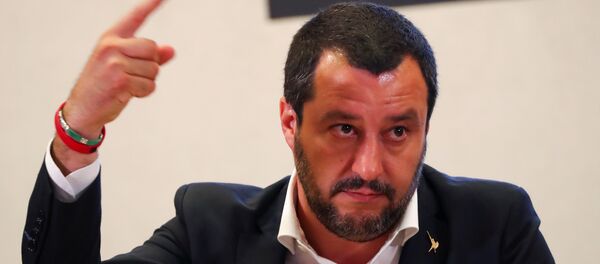 Salvini later stressed that he wanted to put an end to migrant arrivals by boat, saying that Italy could not be Europe's "refugee camp," and dismissing the so-called Dublin rule, which requires that would-be refugees file for asylum in the first EU member-state they arrive in.
The European Union has been experiencing its worst migrant and refugee crisis, largely triggered by turbulence in the Middle East and North Africa: Italy has seen 650,000 sea arrivals in five years, and is currently hosting about 170,000 in shelters.