"The Libyan Coast Guard has saved 611 immigrants in the last hours. Are NGOs protesting and smugglers losing their business? Great, we will continue this way!" Salvini wrote on Twitter.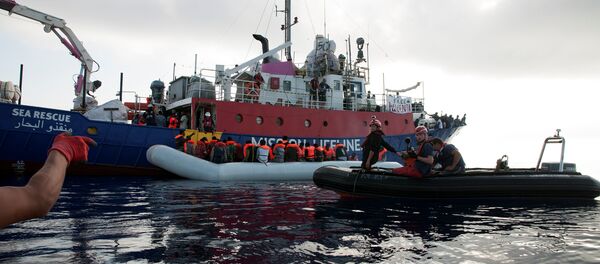 The United Nations earlier accused an Italian ship of violating international law after it returned more than 100 migrants it had earlier rescued in the Mediterranean to Libya, even though the country is not regarded as safe, The Guardian reported.
A spokesman for the UN migration agency said it could not establish the location of the rescue. He added that the agency was still investigating the case, but confirmed the return of the migrants to Libya.
According to Spanish sea search and rescue charity Proactiva Open Arms, the Asso 28, an oil rig support vessel, allegedly saved 108 people from a dinghy in international waters earlier this week and then took them to Tripoli.
"The Asso 28, with an Italian flag, rescued 108 people in international waters and is now deporting them to Libya, a country where human rights are not respected," Proactiva Open Arms founder Oscar Camps wrote on his Twitter account.
"No chance [for them] to get asylum or shelter," he added. Twitter.
If confirmed, this would constitute a serious violation of international law, according to which refugees rescued in international waters are not to be returned to where their lives may be in danger.
Italy's coast guard said on Tuesday that the migrants had been plucked out in Libyan territorial waters and that the Libyan coast guard had coordinated the rescue operation.
The Libyan coast guard hasn't commented on the information yet.
The incident comes two weeks after Italy assured Germany that it would continue to accept migrants rescued at sea until an EU-wide plan on redistributing people across the continent was established.
Migrants' charities are at loggerheads with the new Italian government and Interior Minister Matteo Salvini, who wants to dramatically cut the number of migrants arriving on Italy's shores.
READ MORE: Italy Vows to Block Foreign Navy Ships on Migrant Rescue Missions From Ports
In June, Italy turned away two ships with hundreds of migrants on board trying to dock at Italian ports in the first major anti-migrant move made by Salvini, who earlier called for an end to Sicily being Europe's "refugee camp."
Some 640,000 refugees have landed in Italy, mainly from Libya, since 2014 – although numbers this year have fallen, with 14,500 arriving so far since January.
A pact between Italy and Libya has led to a 70 percent decrease in arrivals since last summer.