Syrian government forces combing towns and villages in the country's southern province of Rif Dimashq have discovered Israeli-made bombs along with loads of munitions and military hardware inside weapons caches belonging to foreign-sponsored jihadist terrorists, Syrian's official news agency SANA reported.
According to the agency, citing an unnamed field commander, Syrian army forces conducting clean-up operations in the towns of Babbila and Yalda have also found a number of anti-personnel mines, rocket-propelled grenade launchers and their rockets, machineguns, automatic rifles, chemical substances used to make bombs as well as telecommunication devices.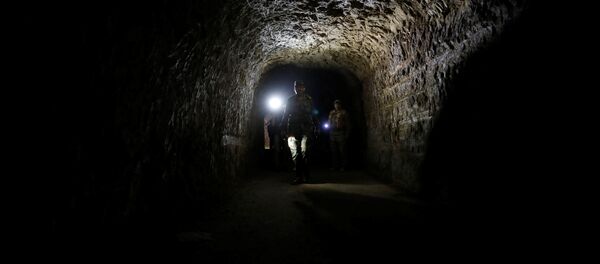 Syrian government forces are also searching for hidden arms caches in the southern outskirts of the capital Damascus as they prepare for the return of local residents displaced by war.
In the country's southwestern Daraa province, government troops have recaptured the town of al-Shajara regaining full control of the Yarmouk basin.
"The Syrian army has completely routed the terrorists from Daraa province after taking control of the Yarmouk Basin in the north-west of the province," a military source told Sputnik on Tuesday.
There too a number of weapons caches were found, along with bomb-making workshops and underground prisons, SANA wrote.
The military offensive in the regions, partially controlled by various militant groups, was launched by Damascus in June after its capital and several other cities had been shelled by local militants despite an ongoing ceasefire reached with the help of the Russian Reconciliation Center for Syria.
The Syrian government aims to regain control of its border with Jordan and with the disputed territories of the Golan Heights, occupied by Israel.
READ MORE: Armed Groups in Syria's Southwest Surrender Tanks, Howitzers