Majority of Syria's moderate opposition troops joined Damascus in the fight against Daesh*, Jebhat al-Nusra*, Rudskoy said.
Terrorists are still hiding in Rukban refugee camp near al-Tanf area, 60,000 people are still in precarious conditions, he added.
"During the operation, Syria's Armed Forces, supported by Russia's Aerospace Forces, completely destroyed Daesh and Jebhat al-Nusra gangs and established control over the territory of the Suwayda, Daraa and Quneitra provinces," he said.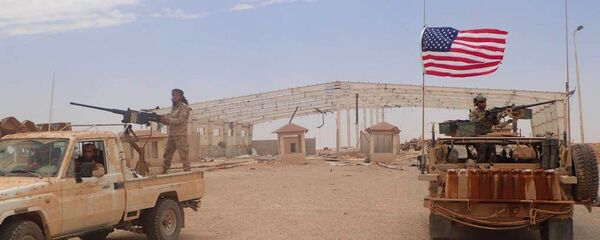 Rudskoy said that as a result of the operation in Syria's southwest, 3,332 square kilometers were liberated, with Damascus regaining control over 146 settlements.
He said military operations in southwestern Syria were conducted only against the Daesh and Jebhat al-Nusra units.
In areas adjacent to the al-Tanf zone, which remains under the control of US troops, there has been an increase in Daesh fighters, who commit terrorist acts in the settlements of the provinces of As Suwayda and Rif Damascus, and are also trying to organize sorties in the direction of Palmyra and Deir ez-Zor, he said.
Russia calls on the US to provide as soon as possible humanitarian access to Rukban refugee camp, to close military base in al-Tanf, according to Sergei Rudskoy.Russian Foreign Minister Sergey Lavrov said on Thursday that, in parallel with the continued efforts made to return Syrian refugees to their homes, Damascus was yet to root terrorist pockets out of the areas close to Idlib province.
"The work [on the return of refugees] is in full swing. A lot is yet to be done, and, in parallel with it, [Syria] is yet to completely defeat terrorists, who still remain, in the areas close to Idlib, for instance," Lavrov told reporters.
The minister, particularly, dwelt upon the return of Syrian refugees, stressing that Lebanon, Jordan and Turkey expressed their interest in joining these efforts. He also noted that Russia maintained close cooperation on the issue with the UN Refugee Agency (UNHCR).
The United States occupies a 34-mile zone around its military base in Al-Tanf, where it trains and equips armed Syrian opposition forces. The Rukban refugee camp is located some 11 miles south of Al-Tanf and inside the US-controlled zone on the Syrian-Jordanian border.
*Daesh(also known as ISIS/ISIL/IS) and Jebhat al-Nusra are a terrorist groups banned in Russia