Germany denies it has a vague Brexit proposal up its sleeve, ready for a no-deal Brexit outcome, according to sources cited by the Guardian.
As the UK is trapped in a deadlock over key Brexit issues mere months before the actual date when it will sever its membership in the European Union, reports have emerged that the EU might offer Prime Minister May their own variant of a deal. According to the Guardian, such a deal might be presented as a diplomatic way to save May's face on the political stage, but it would be intentionally vague, so as to postpone the solution of key EU-UK issues past the exit date.
Such a scenario has been dubbed a "blind Brexit."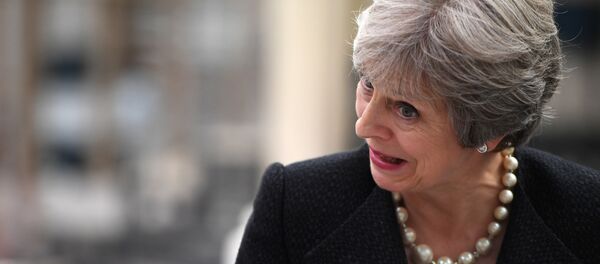 According to the report, the former UK's Remain campaign — now known as the People's Vote — believes that EU's chief Brexit negotiator, Michel Barnier, is ready to present the vaguely formulated Brexit deal to May, in case such move would be authorized by Germany and France.
Leslie MP of UK's People's Vote said: "A blind Brexit would take the UK to the same place as a no-deal Brexit, but without the clarity. The idea that the fundamental contradictions of the government's Brexit policy can be more easily resolved after the UK has left the EU is simply ludicrous."
"A blind Brexit is being talked about because some see it as a short-term face-saving deal for both the British government and the European Union, both of which are now terrified that concluding with a failure to agree to a deal will result in a humiliating no-deal Brexit."
However, unnamed German sources cited by the outlet denied the rumors.
The sources say that, despite several reports from Brussels and EU officials, there have been no instructions to back a vaguely-worded Brexit deal. They specifically added that Berlin would demand clear agreements on future trade and security cooperation.
Earlier this week, UK Foreign Minister Jeremy Hunt has called on France and Germany to intervene in the Brexit negotiations to push the UK's internal negotiation out of deadlock.
"France and Germany have to send a strong signal to the commission that we need to negotiate a pragmatic and sensible outcome that protects jobs on both sides of the Channel, because for every job lost in the UK, there will be jobs lost in Europe as well if Brexit goes wrong," Hunt said.
Michel Barnier, as well as a number of European politicians, have "ridiculed" the idea of France and Germany intervening in the UK's internal discussions, the Independent wrote Wednesday.