"We regularly respond to such kind of questions. China and Iran are not violating their international obligations, we maintain conventional contacts and cooperation, it is fair and logical, legitimate and reasonable. There is nothing in it that would be worth of reprimanding," the ministry's spokesman, Geng Shuang, said at a briefing while answering the question on Beijing's alleged refusal to agree with the US calls on Iran.
China has always been opposing any unilateral actions and extraterritorial sanctions, the spokesman underlined.
Earlier in the day, the Bloomberg news agency reported, citing two officials familiar with the talks between China and the United States that the latter failed to persuade Beijing to cut Iranian oil imports amid Washington's withdrawal from the Iran nuclear deal. China has only agreed to refrain from increasing the deliveries from Iran, according to the media outlet.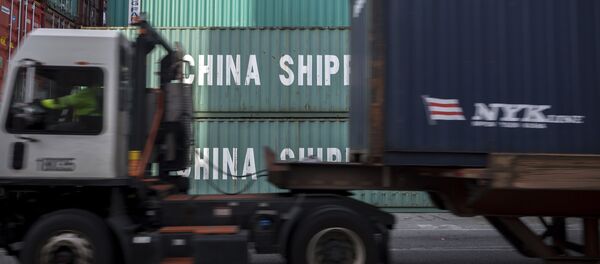 In late June, the US State Department said that Washington was seeking to persuade its allies to completely abandon imports of the Iranian oil by early November, while US Secretary of the Treasury Steven Mnuchin stressed that the United States was ready to impose sanctions against any country, including China that would continue importing oil from Iran despite the US restrictions. The US sanctions against Iran's oil field are expected to come into effect on November 4.
US President Donald Trump announced his decision in May to pull out of the Iran nuclear agreement, which was signed in 2015 in Vienna by Iran, the European Union, China, France, Russia, the United Kingdom, the United States and Germany. Washington's unilateral move has been opposed by other parties to the nuclear deal.