Washington has failed to persuade China to reduce Iranian oil imports, which is damaging the Trump administration's efforts to isolate the Islamic Republic after the US exit from the 2015 Iran nuclear deal, Bloomberg cited officials as saying.
Speaking on condition of anonymity, the officials added that at the same time, China pledged not to increase purchases of Iranian crude amid concerns that Beijing would purchasing excess oil from Iran. Doing so would undermine Washington's push to isolate Tehran.
READ MORE: 'US Sanctions on Iran Will Not Have Any Impact & Will Fail' — Oil Economist
According to the officials, the issue was discussed during a recent visit by Francis Fannon, US Assistant Secretary of State for the Bureau of Energy Resources, to China.
Bloomberg noted in this vein that the American negotiators are currently visiting the capitals across the world to discuss choking off sales of Iranian oil by early November.
READ MORE: President Rouhani Says US 'More Isolated Than Ever' Over Iran Sanctions
Late last month, the US State Department said that countries buying Iranian oil should bring down to zero their Iranian crude imports by the time Washington re-imposes sanctions on Tehran on November 4.
In another development in July, US National Security Adviser John Bolton stated that the country's President Donald Trump was ready to take harsh steps against Tehran in the event of threats to Washington concerning an oil trade blockade.
His remarks came after Iranian President Hassan Rouhani warned the US against attempting to stop Tehran's oil trade, adding that Tehran has many "straits" apart from the Strait of Hormuz, through which to ship its oil, in case Iran's exports are blocked.
READ MORE: If Iran Can't Sell Oil, No Country Will Export It From Persian Gulf — Professor
Chinese Foreign Ministry spokeswoman Hua Chunying, for her part, underscored that Beijing is up in arms about unilateral US sanctions mechanisms and plans to keep trade ties with Iran in accordance with international agreements.
"China and Iran unwaveringly maintain normal trade and economic ties. China will continue to cooperate with Iran adhering to its international obligations," she said.
Hua slammed the practice of imposing sanctions on the basis of domestic legislation, assuring that Beijing would protect the implementation of the Iran nuclear deal provisions.
READ MORE: Iran Will Close Strait of Hormuz if Country's Oil Shipments Threatened – Army
On May 8, Trump announced that his country would withdraw from the Iran nuclear deal, also known as the Joint Comprehensive Plan of Action (JCPOA).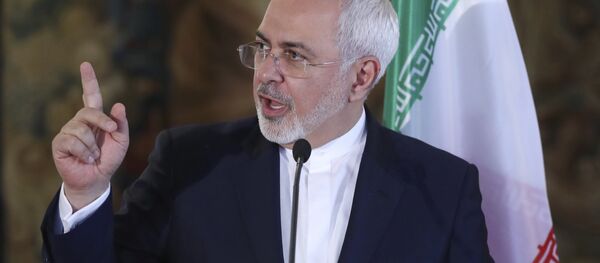 In addition, the US President decided to reinstate the previously-lifted sanctions on Iran, including secondary ones, which target other countries for doing business with the Islamic Republic.
According to the US Treasury Department, following a wind-down period, three different rounds of sanctions will be imposed on Iran in the coming months. They are scheduled for August 6, November 4 and November 5, respectively.