"The president… ordered to disband the military counterintelligence [unit] and launch a 'new command,' which would not be linked to the past," the representative of the administration said.
Moon also replaced the unit commander, Lt. Gen. Lee Suk-koo, appointing Lt. Gen. Nam Young-sin as the new chief.
The unit was made up of public officials and personnel from various branches of the military.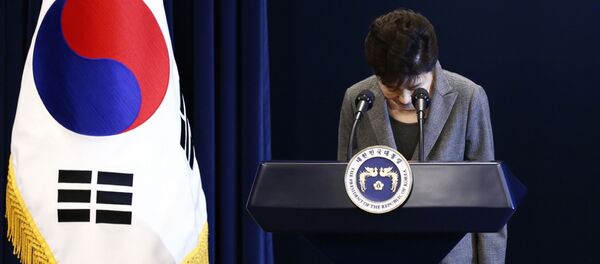 Military investigators reportedly said Thursday that they found evidence the DSC had been focused on preparations for the implementation of the martial law plan. The investigators also found out that the unit had put under surveillance families of the victims of the Sewol ferry, which sunk in 2014.
A large-scale political scandal broke out in October 2016 when Park was accused of having allowed her longtime friend and close associate Choi Soon-sil to get involved in state affairs. She was also suspected of being complicit in Choi's extortion of $54.9 million from big conglomerates, including Samsung, in exchange for business favors. The ex-president is also said to have conspired with her friend to force more than 50 companies to donate $72.4 million to two charity funds controlled by Choi.
The scandal led to Park's impeachment in December 2016 that was confirmed by the country's Constitutional Court on March 10, 2017. Twenty days later, on March 30, 2017, she was arrested. In April, 2018, the Seoul Central District Court sentenced Park to 24 years in prison.