A Syrian Arab News Agency reporter embedded with the army in Quneitra province in the Golan Heights came upon a warehouse containing large stocks of weapons and ammunition used by the militants. 
Among the haul were US and Israeli-made weapons, Israeli food products, and a collection of supplies thought to have belonged to the White Helmets, a controversial rescue group which Damascus has accused of links to the jihadists. Photos from the Quneitra stockpile include the distinctive White Helmets' style helmets, gasmasks, oxygen tanks, and other equipment.
Weapons included US-made rifles and missiles, ammunition of various calibers, mines, sniper rifles, and machine guns, as well as military communications equipment. The find includes at least 9 anti-tank missile systems, including the US-made TOW.
According to SANA, the search for warehouses containing weapons used by militants continues, with the jihadists believed to have hidden large stocks of weapons in underground caches in local villages and adjacent plantations before fleeing.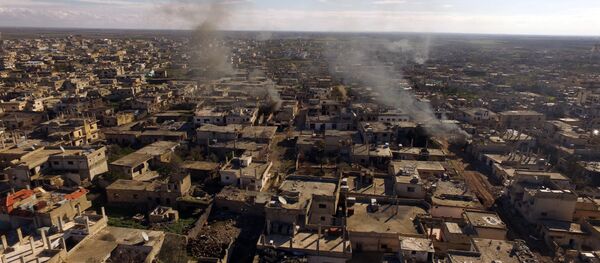 Last month, Syrian troops seized a separate arms depot in neighboring Daraa province, where they discovered a large stock of US-made TOW anti-tank missiles.
On Thursday, the Russian General Staff confirmed that the Syrian government had successfully reestablished control over the provinces of Al-Suwayda, Daraa, and Quneitra in southern Syria. Thanks to the efforts of the Russian Center for Reconciliation, the majority of the so-called 'moderate' militants laid down their arms without a fight, and joined government forces to liquidate Daesh (ISIS)* and Nusra Front* militants. Others were evacuated with their families to Idlib province in Syria's north, which remains under opposition control.
The Syrian-controlled portion of Quneitra, delineated under the 1974 military disengagement agreement with Israel, borders on the Israeli-occupied portion of the Golan Heights, a strategically important elevated territory on the Syrian-Israeli border which Tel Aviv seized and annexed following the 1967 Arab-Israeli War. The United Nations Security Council rejected the move and called the 1981 annexation and decision to impose Israeli laws, jurisdiction and administration over the Syrian territory "null and void and without international legal effect."
On Thursday, Sputnik Arabic published videos of Syrian forces returning to areas delineated under the 1974 disengagement agreement for the first time since 2011.
*Terrorist groups outlawed in Russia and many other countries. Nusra Front, aka Jabhat Fatah al-Sham, has also been described as al-Qaeda in Syria.