Also, Turkey urged al-Nusra Front's foreign mercenaries to return to the countries from which they arrived and surrender to the law enforcement agencies there.
Al-Watan reported that Ankara also plans to use the recently established National Liberation Front, made up of several rebel groups, to drive al-Nusra Front terrorists out of Idlib.
READ MORE: Syrian Army Seizes Foreign-Made Weapons Slated for Militants in Idlib — Reports
Last week, Syrian President Bashar Assad estimated that Idlib province was currently home to "tens of thousands of terrorists," stressing that the province was among the top priority areas for Syrian military's operations.
The statement came as a source told Sputnik that the Syrian Army was sending military equipment and ammunition to the borders of Idlib province and preparing for a large-scale operation to clear the area of terrorists.
READ MORE: Idlib Liberation Would Bring End to Syria War — Syrian Military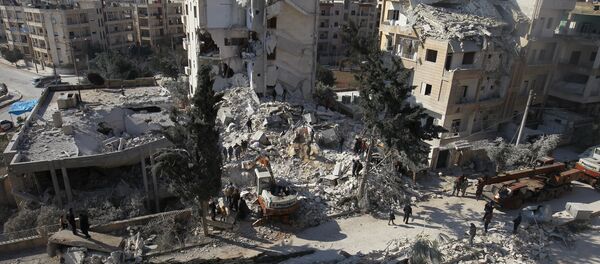 7 January 2018, 12:37 GMT
In February, Turkish President Recep Tayyip Erdogan promised that "after we defeat the terrorists in Afrin, we will defeat them in Idlib too," adding that Turkey is committed to clearing the north-western areas of Syria from terrorists in order to ensure the return of refugees to their homeland.
Over the last three years, militants from Aleppo, East Ghouta, Daraa province and other regions have been evacuated to Idlib under agreements with the Syrian government. With the liberation of broad areas of southern Syria earlier this month, Idlib province has become one of the last anti-government strongholds in the country.
---
*Al-Nusra Front, a terrorist group banned in Russia