Monday will mark the fourth anniversary of Russia's introduction of import restrictions targeting European, North American and Australian food products in response to Western sanctions against Moscow over the conflict in Ukraine. The countersanctions, which include fruit, vegetables,  meat, dairy, fish and seafood products, sparked an agricultural renaissance of sorts for many Russian farmers, and caused billions of dollars' worth of losses, primarily for European agricultural businesses. Recently, Moscow extended the sanctions until the end of 2019. 
Sputnik has written plenty of in-depth articles about the macroeconomic impact of the sanctions war as it relates to both Russia and various European countries. But in this piece, we look at the microeconomic level, focusing on Magomed Aliyev, a farmer from the tiny village of Tsatsa, Volgograd region, who created a goat farm five years ago and has built it up ever since.
"My kids total 495 heads," Aliyev said, speaking to a Sputnik reporter during a visit to his farm. In all, the farm has 750 goats, including kids born as recently as March, who are held in a separate pen.
© Sputnik / Svetlana Samsonova /
Goat kids at Magomed Aliyev's farm.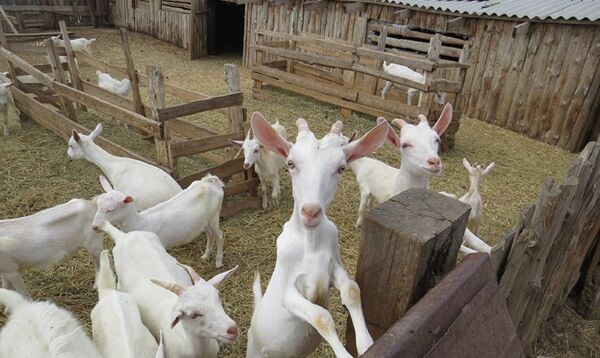 Goat kids at Magomed Aliyev's farm.
© Sputnik / Svetlana Samsonova /
"The last two weeks' rains interfere with the work. The goats don't like it either. As soon as it starts dripping, they immediately run back to the farm. We just can't collect the harvest," the farmer complained. Aliyev grows his own feed for his goats, including alfalfa and Sudan grass. His farm also has cows, sheep, and wheat and barley fields on 1.1 hectares' worth of land, and an irrigation system covering part of the farm's territory. In the event of a crop failure, losses are covered by profits from the breading of cattle for meat and dairy.
Aliyev, whose family has animal husbandry experience going back decades, began his own goat farm in 2013, after hearing about a federal government program encouraging goat farmers. At first he was hesitant, thinking goat farming was not a serious endeavor. However, after seeing goat milk made in France being sold for 350 rubles (about $5.50 US) a liter in a local store, Aliyev realized that it could be a worthwhile endeavor. "Moreover, I found it a shame that goat milk was not being produced anywhere closer than France," he said.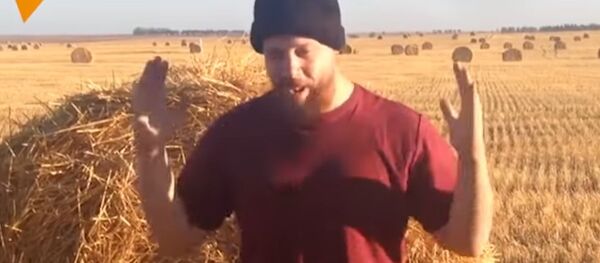 18 November 2017, 17:00 GMT
Applying for and receiving a grant covering 60% of the cost of the farm buildings and equipment (and investing the rest of the funds himself), Aliyev was all set. "Organizing the goat farm and the operation to process goat milk into cheese cost 10 million rubles [about $158,000 US]. We built a modern goat shelter, 300 goats, and Italian equipment for pasteurizing milk and making cheese. We also purchased a packaging machine," the farmer explained.
The cheese production facility is based in the courtyard of the Aliyevs' home. Inside is a large vat where the milk is turned into cheese. Processes are automated; all that's required is to select the desired program. In the adjacent room are shelves with drying cheese rolls, which are sent to the maturation chamber after being molded and salted.
© Sputnik / Svetlana Samsonova /
Magomed Aliyev making goat cheese.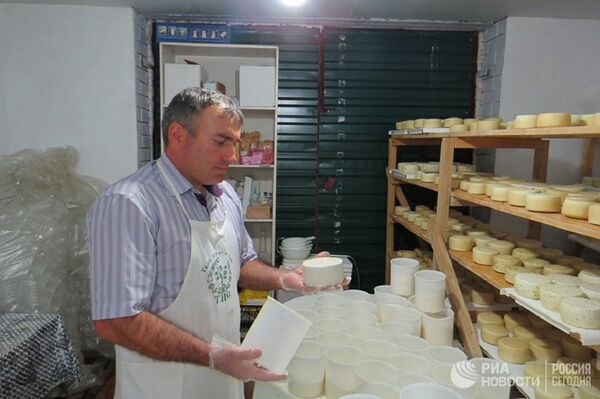 Magomed Aliyev making goat cheese.
© Sputnik / Svetlana Samsonova /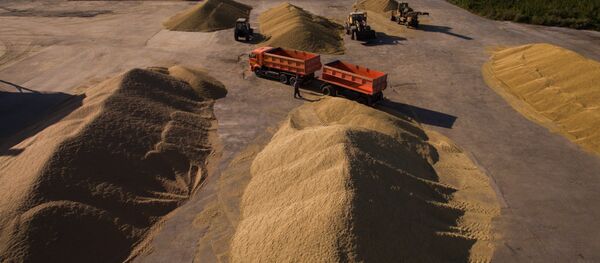 Magomed and his wife Aida were trained by the Italian firm which sold them the cheese-making equipment. He has learned to make caciotta cheese, which he makes strictly according to Italian recipes and using Italian sourdough to give it that authentic taste.
On a typical day, Aliyev's goats provide about 900 liters of milk, half of it going to cheese production. "In general, we make 40 kilograms of cheese a day, and can produce more," the farmer said.
Aliyev branded his products "Your Source of Strength," Russian acronym TIS, with his products delivered to store shelves in supermarkets across Volgograd. The farmer admitted he has had more difficulties penning agreements with the larger retailers.
The quality of the farm's products is high, Aliyev said, pointing out that this was something his Italian partners could attest to. His prices are democratic, too, with his caciotta selling for 600 rubles a kilogram (about $9.50) compared with 1,000 ($15.80) for the imported stuff.
"In general, sanctions have of course played a positive role for the development of agriculture," the farmer said. "The state provides grants and subsidies. Our products have finally made it into the stores. Before the sanctions, if there were goat cheeses, they were only French and Italian ones."
Aliyev's farm received a gold medal at the 2017 AgroRus exhibition in St. Petersburg in the category of best cattle-breeding farm. The farmer employs several milkmaids, ranchers and tractor drivers to help with the workload.
It hasn't been all easy sailing, Aliyev admitted. At the moment, he's engaged in a court battle with the local power company who he believes massively overbilled him for power to his farm. But the farmer has not lost faith in the dream which he built with his own two hands. "In five years, I have invested over 25 million rubles in this goat farm, including the grant. I will invest more if they stop impeding me," he concluded.
© Sputnik / Svetlana Samsonova /
Magomed Aliyev and his goats.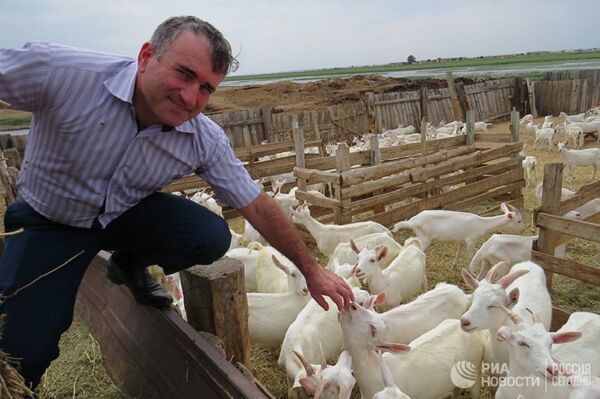 Magomed Aliyev and his goats.
© Sputnik / Svetlana Samsonova /