The Russian Foreign Ministry said Saturday that Seagal, who received Russian citizenship in 2016, has been appointed the ministry's special representative for the Russian-US humanitarian relations. The ministry stressed that Seagal's post is non-remunerated and is related to social and political matters. The unpaid role will be similar to the UN goodwill ambassador positions.
I am deeply humbled and honoured to have been appointed as a special representative of the Russian Foreign Ministry in charge of Russian and American Humanitarian ties.
I hope we can strive for peace, harmony and positive results in the world.
I take this honour very seriously pic.twitter.com/LTuUxsk1aZ

— Steven Seagal (@sseagalofficial) 5 августа 2018 г.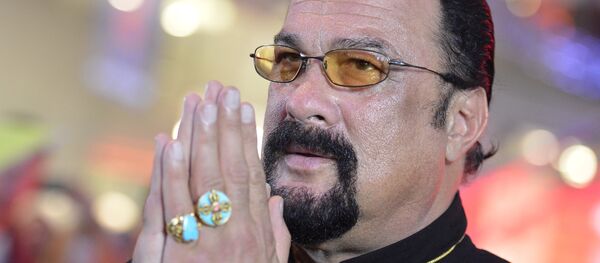 Meanwhile, on Sunday former US Ambassador to Russia Michael McFaul criticized the appointment of Hollywood actor Steven Seagal as Moscow's special representative for Russian-US humanitarian ties.
"Desperate … Is Seagal a Russian citizen now? This will be 'interesting': Russia has appointed Steven Seagal as a special representative to improve relations with America," McFaul wrote on Twitter, attaching reports on Seagal's appointment.
In 2016, Russian President Vladimir Putin personally handed a Russian passport to Steven Seagal in the Kremlin. The US actor said in turn that it was a great honor for him to be in the Kremlin at a personal meeting with the Russian president.
Steven Seagal, the star of "Hard to Kill" and "Under Siege", rose to fame in early 1990s after appearing in a string of action and martial arts movies. Seagal has joined the ranks of famous US citizens granted Russian citizenship along with boxer Roy Jones and mixed-martial artist Jeff Monson.
The actor, notably, played a Russian diplomat in 2009's "Driven to Kill", which was partially set in St. Petersburg but filmed in the US and the Czech Republic.