"We announce that we will blame the Colombian government for any further aggression or any attempt to support provocations against the Bolivarian Republic from [the Colombian] territory or border regions," the government said in a statement.
The statement said that the fact that Colombia had not condemned the attack on Maduro was surprising. Caracas also accused Bogota of conducting "constant aggressive acts and provocations against the Venezuelan people and government."
READ MORE: Ex-Venezuelan Prosecutor Refutes Allegations of Plotting Assault on Maduro
The Venezuelan government noted that its people would continue its fight against the meddling in its internal affairs by Colombian tycoons.
On Saturday, a blast occurred during Maduro's speech at a military parade in Caracas. The Venezuelan authorities subsequently said that the incident was an assassination attempt on Maduro with the use of drones carrying explosives. Maduro accused Venezuelan opposition forces, and Colombia, adding that some of the assassination perpetrators resided in the United States. Both Bogota and Washington denied any involvement in the incident.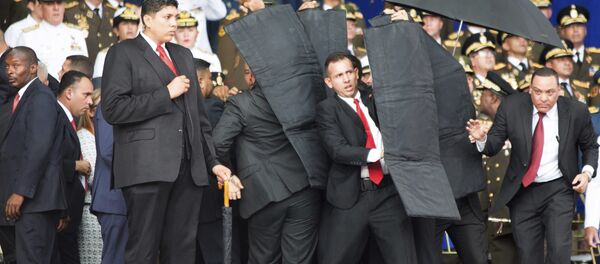 The Venezuelan authorities said on Sunday that they had detained six people as part of the investigation into the attack.
The relations between Colombia and Venezuela have deteriorated over the past years with the neighboring countries having recalled their ambassadors multiple times over various disagreements. In the most recent case in May, Colombia recalled its ambassador to Venezuela after Maduro was re-elected as the president in the vote, which Bogota did not recognize.