According to the Russian Envoy to South Ossetia Marat Kulakhmetov, Georgia has tried to justify the failure of its military operation in South Ossetia by claiming that Russian troops had been deployed there before August 8, 2008.
"This is an excuse by [former Georgian President Mikheil] Saakashvili's team. Such a theory appeared around noon on August 8. It appeared I believe, only because things did not go as planned by Tbilisi," Kulakhmetov said.
READ MORE: Washington Urges Moscow to 'Withdraw Forces' From Abkhazia, S Ossetia
Kulakhmetov, when addressing the recent Noble Partner 2018 large-scale military drills involving Tbilisi's NATO partners, stressed that Russia would not allow a destabilization of the situation on the border, adding that the West is using Georgia in order to further its interests in the region.
"Today, Georgia is a NATO outpost in the South Caucasus region. The current leadership does not hide its sympathies and its aspirations. The US is betting on Georgia, and first of all on its leaders, as a conductor of anti-Russian sentiments to reduce Russia's influence in the South Caucasus region, where the Russian Federation's positions are long-standing, " the ambassador said.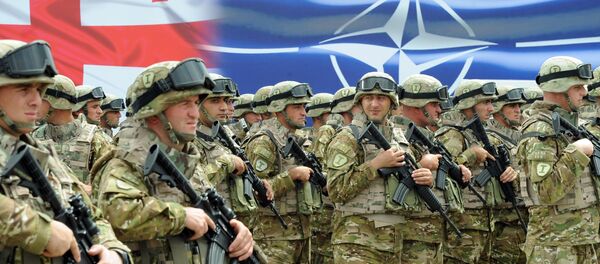 In August 2008 Georgian forces began a military operation in South Ossetia and partially destroyed its capital. Russia sent troops to South Ossetia to try to protect local residents, many of whom had Russian citizenship.
After five days of clashes, Russia managed to expel Georgian soldiers from the region. This caused Georgia to cut diplomatic ties with Russia, as Tbilisi regards South Ossetia and Abkhazia as occupied territories.