The footage was taken on August 3, but the Korea-focused website 38 North didn't publish their analysis until Tuesday.
"While dismantlement of the vertical engine test stand represents a fulfillment of Chairman Kim's agreement with President Trump conveyed publicly during the post-Singapore Summit press conference, activity at the launch pad appears to go beyond that commitment," analysts wrote.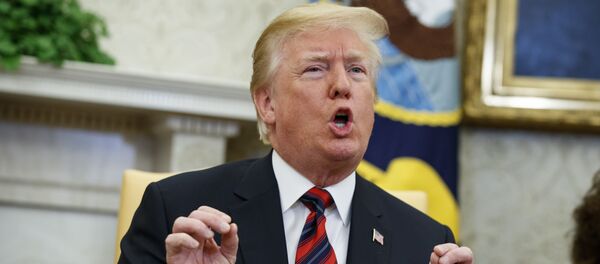 Moreover, "vegetation has started to fill in the previously barren blast area."
On Tuesday, longtime North Korea hawk and National Security Advisor to Trump John Bolton said the DPRK hasn't taken the necessary steps towards denuclearization, Sputnik News reported. "What we really need is not more rhetoric," Bolton said in a Fox News interview. "What we need is performance from North Korea on denuclearization."
Bolton's remarks came the day following highly-publicized complaints about US sanctions by a North Korean state newspaper. "There have been outrageous arguments coming out of the US State Department that it won't ease sanctions until a denuclearization is completed, and reinforcing sanctions is a way to raise its negotiating power," the Monday editorial of the Rodong Sinmun newspaper said.
Meanwhile, a six-month report by experts submitted to the UN Security Council was analyzed by Reuters. The report claimed North Korea "has not stopped its nuclear and missile programs," the outlet reported on Friday. However, no additional information or evidence was cited.
On July 30, The Washington Post cited unnamed "officials familiar with the intelligence" supposedly underpinning US spy agency allegations that North Korea is working on one or two liquid-fueled Intercontinental Ballistic Missiles (ICBM) capable of reaching the US. 

"The reports about new missile construction come after recent revelations about a suspected uranium-enrichment facility, called Kangson, that North Korea is operating in secret, " the outlet wrote, referring to a July 13 article in The Diplomat.
What The Diplomat presented as a "covert enrichment site" could only be definitely called "consistent" and "suitable" for enrichment, according to research by Jeffrey Lewis of the Center for Nonproliferation Studies at the Middlebury Institute of International Studies at Monterey.
"What we feel comfortable saying is that we can't say whether it is, or is not, an enrichment plant," Lewis told The Diplomat. But, "this is a suitable building that has a number of signatures consistent with that and no obvious inconsistencies," he said.
The outlet cited a monument to Kim near the facility, which it posited "implies an unusual role for the site."
The veracity of The Diplomat piece was disputed by 38 North on Friday, which wrote that the article presents "little tangible evidence to support the claim that the Kangson site is a uranium enrichment facility or contributes components, parts or technology to North Korea's WMD program."
"There is nothing particularly remarkable about a DPRK industrial facility with security fencing, worker housing and Kim iconography," 38 North wrote.