"Collectively, the governments of Sweden, the UK, the US, Ecuador (recently) and, through its silence, Assange's home country of Australia have imposed six years of suffering on Assange and possibly lifelong damage to his health… We the undersigned members of Veteran Intelligence Professionals for Sanity urge all governments to honor the OHCHR and IACHR directives with respect to Julian Assange and other asylum seekers," Veteran Intelligence Professionals for Sanity (VIPS) said in a statement published on Antiwar.com.
If the involved governments continue to persecute Assange, they risk damaging their own reputation, but if they let the whistleblower go either to Ecuador or home to Australia, providing their guarantees, they might be seen as supporters of human rights, the statement noted.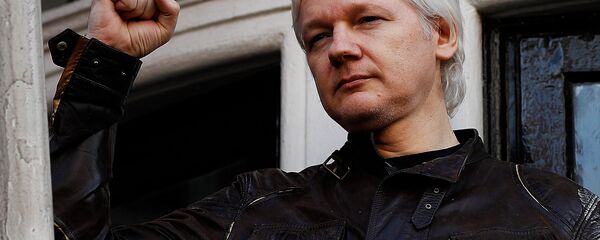 The appeal was signed by 22 former officers, including former National Security Agency (NSA) Technical Director William Binney.
In May, the Organization of American States' (OAS) Inter-American Commission on Human Rights (IACHR) said in response to a request from Ecuador, without directly naming Assange, that the human right of an asylum seeker covered both "territorial asylum and diplomatic asylum" and that every nation must ensure safe passage for asylum seekers to their final destination of asylum.
READ MORE: Assange's Defenders Alarmed at Ecuador's Wish to End His Stay in Embassy
In February 2016, the UN Office of the High Commissioner for Human Rights (OHCHR) said that Assange had been unlawfully detained and his rights violated.
Assange took refuge in the Ecuadorian Embassy in London in June 2012 after being accused of sexual offenses by Swedish authorities. While the charges have since been dropped, he still fears extradition to the United States, where he is wanted for leaking Iraq War logs. According to media reports, his health has deteriorated recently and he would leave the embassy for a hospital visit in the near future, after which the whistleblower's options for taking shelter will be limited.
READ MORE: Ecuador's President Names Condition For Assange to Leave London Embassy
In March, Assange's communications with the outside world were cut off after Ecuador accused the whistleblower of putting its good ties with London at risk. The new president later ordered for the extra security at the diplomatic mission to be removed.
READ MORE: US Senate Intel Committee Urges Assange to Testify in Russia Probe — WikiLeaks