Footage has surfaced on social media, in which Jeremy Corbyn accuses the BBC of being biased towards Israel's right to exist, as a result of "undue pressure" by Tel Aviv on the broadcaster's senior executives and journalists.
Remember that time @JeremyCorbyn appeared on PressTV and said that the Israeli government and Israeli embassy are "very assertive towards all journalists and the BBC" and as proof of this said "there is a bias towards saying… Israel has a right to exist". No? Here you go… pic.twitter.com/9Jy8l1VKHT

— The Golem (@TheGolem_) August 7, 2018
"There's pressure on the BBC from, probably, [then-BBC director general] Mark Thompson, who seems to me to have an agenda in this respect. There seems to be a great deal of pressure on the BBC from the Israeli government, from the Israeli embassy, and they are very assertive towards all journalists and toward the BBC itself," Corbyn said in the resurfaced interview.
READ MORE: Political Activist on Corbyn Anti-Semitism Accusations: 'Silly Season Hysteria'
Corbyn made the remarks in an interview in 2011 with Press TV, Iran's state-funded news agency, which he used to regularly speak to, primarily about the Israel-Palestine crisis.
Outlining how the BBC is biased in its reporting of Israeli affairs, especially Tel Aviv's foreign policy, Corbyn said, "They challenge every single thing on reporting the whole time."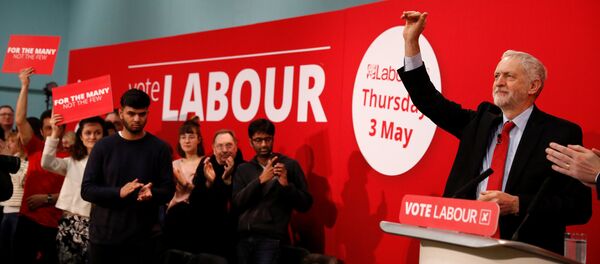 In response to mounting concerns over the party's alleged tolerance of anti-Semitism, Labour's National Executive Committee (NEC) published a new, stricter code last month. However, Jewish groups were quick to warn that the code didn't go far enough, as its definition was laxer than the International Holocaust Remembrance Alliance's (IHRA).
Critics have insisted that Corbyn violated the Labour Party's guidelines on anti-Semitism in the interview, as some interpreted his comments as questioning Israel's right to exist.
Reacting to Jennifer Gerber, head of the Labour Friends of Israel group, described Corbyn's remarks as "deplorable" and accused him of using Iranian state media to spread "wild conspiracy theories" about Israel.
READ MORE: Jewish Group Accuses Labour Party of Being 'Institutionally Anti-Semitic'