The International Committee of the Red Cross said that the majority of the victims were children, Sputnik News reported. Meanwhile, State Department spokeswoman Heather Nauert told reporters on Thursday that Washington is "certainly concerned about these reports that there was an attack that resulted in the deaths of civilians." 
"We call on a Saudi-led coalition to conduct a thorough and transparent investigation into the incident," Nauert added.
UN Secretary-General Antonio Guterres condemned the air strike and called for an "independent and prompt investigation," spokesman Farhan Haq said Thursday.
​Medea Benjamin, anti-war activist and co-founder of Code Pink, joined Radio Sputnik's Loud & Clear to discuss the strike and the ongoing US-backed Saudi and United Arab Emirates war on Yemen.
Jets from the Saudi-led coalition attacked the school bus at a bustling market in Yemen's northern province of Saada. Most of the children were "under the age of 10," Benjamin told Loud & Clear hosts John Kiriakou and Brian Becker.
"This is something that's been happening on a regular basis, with the Saudis bombing markets, schools, hospitals, residential areas — but now to have dozens of children killed, it's time that we just say 'enough is enough.'"
Benjamin noted that US defense contractors are making an incredible amount of money selling weapons Saudi Arabia is using in its bloody campaign. "This is all about billions of dollars in weapons sales, and it just makes me sick, as a mother and as a grandmother, to see these little kids, some of them with the backpacks still on their backs, just with blood all over them and the shocked kind of look in their eyes — the ones that survived."
Walker Bragman, a journalist currently organizing a campaign to push the mainstream media to report on the war in Yemen that has picked up steam after Saudi Arabia killed some 50 people in a fish market on August 2, wrote on Twitter that the US had become "party to another war crime."
Becker noted the "deafening silence" from the US media about the "underlying issue, which is that the United States continues to fund and sell arms to the Saudis."
Benjamin underscored Saudi Arabia's bravado on the international stage as the monarchy is currently embroiled in a row with Canada. Chrystia Freeland, Canada's Minister of Foreign Affairs, criticized the gulf state's jailing of women's rights activists, which prompted a Saudi-run Twitter page to tweet a picture directed at Canada seemingly threatening a 9/11
— style attack on Toronto.
Canada, it should be noted, has approved more than $284 million worth of sales in weapons and military goods to Saudi Arabia, the UAE, Egypt and other countries bombing Yemen with the coalition, the Toronto Star reported.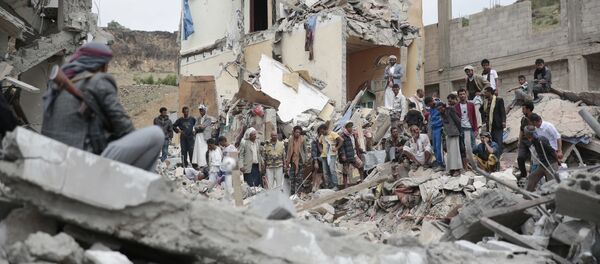 Now, Benjamin noted, the Saudi government is threatening to halt its weapons purchases from Canada and its investments in the country.
"You'd think at some point," Benjamin said, Saudi aggression would be "just too much… If the Iranian government bombed a bus full of children in another country, all hell would break loose, and the US would start bombing Iran."
"If everybody stood up to the Saudis, this would end," Benjamin said. But the almighty dollar seems to be getting in the way, as the kingdom is "blackmailing" other countries with its vast oil reserves.