Sputnik: In what ways has participating and winning this contest impacted your work?
Luis Tato: The impact of being awarded in this contest is great in terms of promoting my work and giving me energy to keep working hard. It is a big motivation and it's great to be recognized in this way after all the hard work. Hopefully, some work and assignments will come my way after this recognition. It's been amazing to be inspired by the rest of the awarded photographers and I feel honored for being part of such an amazing group of talented people.
Sputnik: How important is this event for budding photographers like you?
Luis Tato: There're two main points that make this contest important. First of all, I think it's a beautiful and an important way to create a tribute to Andrey Stenin, a Russian photojournalist who died while on duty. Secondly, I think this is a great event to promote and celebrate young photographers. It gives us the opportunity of growing professionally and promoting our work. This is a very difficult profession nowadays, especially for young people who want to make a career and this contest gives the tools and the opportunities to people to keep working.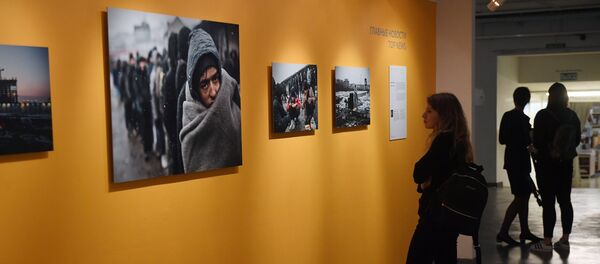 Sputnik: What about the works submitted by your fellow contestants this year? Have you been able to look at their work? Have you got any personal favorites?
Luis Tato: I've seen the works. I think that the quality of the work in this year's contest is just amazing. I can see a lot of talent in the photographers awarded this year. I'm amazed and inspired by every one of them. I was especially surprised by the quality of the work in the "News" category, I liked both singles and series, and the "Portrait" category as well; I think they are very good. Regarding single images, my favorite one is Maria Plotnikova's picture – a cow drinking water in front of an observatory in Russia. I think this is a very beautiful image.
Sputnik: How significant is photojournalism in general in terms of drawing attention to events surrounding us?
Luis Tato: I think photojournalism is key as an informative tool nowadays. We have this space of lacking information on social media and fake news. I think photojournalism is very interesting in terms of informative value, because pictures are universal, you don't need a language [to understand them]. Images can be understood by anyone, at anytime and anywhere. Every one of us has iconic pictures in our minds that help us to understand the world; that have changed our perception of reality. I definitely think that photojournalism is alive, the quality and talent of photographers and storytellers is outstanding, and somehow images can change lives.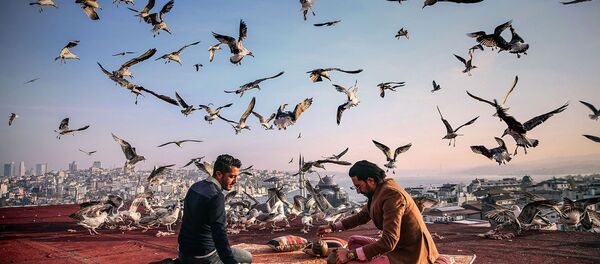 Sputnik: Sometimes photojournalists have to work in quite dangerous environments like warzones; what are the main challenges of this profession, in your personal experience? Over the years there have been photographers that have been killed in warzones, what would you like to add to that?
Luis Tato: Photojournalists nowadays are facing a lot of challenges. This profession can be difficult and risky, especially considering that nowadays journalists and photographers are seen as a target, especially during conflicts, since there are people who what to create a news blackout to protect their power or their own interest. So I think the main challenge nowadays is to make people understand how important it is to have a free press, how important it is to respect the profession of photojournalists. They've been working to create powerful reporting that somehow leaves us speechless and leads all of us to a better place as a society. I think that people are forgetting the importance of press and they are starting to see journalists and photographers as the enemy. We are actually working for the general interest.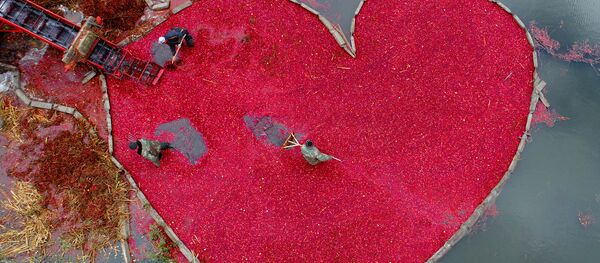 Sputnik: What are your aspirations for the future as a photojournalist?
Luis Tato: I'm currently based in Nairobi, Kenya from where I'm covering several regions on the African continent for news agencies and media outlets. So, for now [my aspirations are] to keep working hard here and try to understand this beautiful and complex region through my photography. I'm just a regular young guy and my aspirations are to keep learning and doing this amazing profession while making a living. I can imagine myself working here in Africa for a few more years, with my only aspiration being [to become] a better photographer every day.