Erdogan has called lira's tumble a "currency plot," noting that "those who move the currency think that they can destroy Turkey."
Earlier in the day, addressing supporters in the Turkish town of Unye, the president urged people in Turkey to sell dollars and euros to support Turkish lira.
"It is wrong to dare bring Turkey to its knees through threats over a pastor," Erdogan stressed.
The Turkish President stated the recent US policy toward its strategic ally Ankara "annoyed, upset" the country.
"I am calling on those in America again. Shame on you, shame on you. You are exchanging your strategic partner in NATO for a priest," the president added.
Following Washington's announcement, the exchange rate of the Turkish lira reached the all-time low, collapsing by more than 16 percent to the US dollar.
READ MORE: Turkey's Erdogan Defiant Amid US Tensions: 'They Have Dollars, We Have Our God'
Earlier, US President Donald Trump authorized a doubling of tariffs on steel and aluminum imports from Turkey.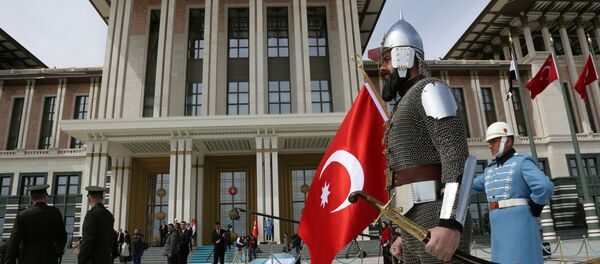 Previously, the US imposed sanctions against Turkey's Minister of Justice Abdulhamit Gul and Minister of Interior Suleyman Soylu for participating in the detention of US pastor Andrew Brunson who is suspected of being connected to the Gulen movement.
Washington believes that he was jailed unlawfully. Ankara has scolded the US sanctions and promised to freeze US Justice and Interior Secretaries' assets in Turkey.
Brunson was detained in 2016 on suspicion of links to the movement founded by Islamic cleric Fethullah Gulen, who Ankara holds responsible for the failed coup attempt that same year.