A new sphinx statue was discovered during road construction works in the Egyptian city of Luxor, the Egypt Today portal reported, citing the general director of Luxor Antiquities, Mohamed Abdel Aziz.
READ MORE: Land of the Pharaohs: Splendors and Wondrous Sights of Cairo
The statue was found by workers during the construction of the new Al-Kabbash Road connecting Luxor Temple and Karnak Temple. The ancient monument resembles the classic sphinx in Giza — a lion with a human head.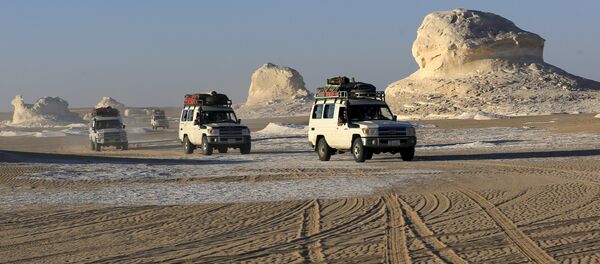 24 February 2018, 18:02 GMT
According to Aziz, the statue still remains in the ground because extracting the monument may cause it to collapse due to a sharp change in temperature.
In 2014, archeologists found in Luxor a tomb of an Egyptian brewer, Khonso-Im-Heb, who made beer and other drinks for rituals over 3,000 years ago. On the walls of the burial chamber, there were well-preserved paintings depicting scenes from the brewer's life.