On Friday, Turkey's national currency lost almost 20 percent of its value after Trump said he had authorized an increase of levies on aluminum and steel exports from Turkey, up to 20 and 50 percent respectively.
READ MORE: Erdogan Calls Lira's Collapse 'Currency Plot' Amid Spat With Washington
"The currency crisis in Turkey is not surprising. A real estate bubble, plenty of short-term funding from abroad and a budget deficit are the recipe for a disaster. Trump will use the devaluation of lira and euro to escalate the trade dispute," Fabio de Masi said, as quoted by the Left's parliamentary faction on Twitter on Sunday.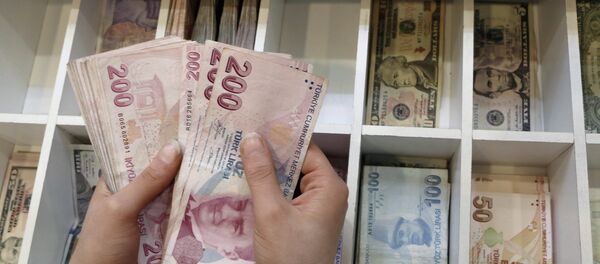 11 August 2018, 08:30 GMT
The plummeting lira could get "nasty" for the European banks and for "export-junkie Germany," the lawmaker warned.
De Masio stressed that Europe should become more independent, focusing more on domestic economy.
Turkey and the United States are embroiled in a dispute over the fate of a US pastor detained in Turkey on suspicion of links to terrorists.