He expressed hope that Iran and Turkey will continue to develop "good" bilateral relations and that the two countries will try to add to maintaining stability and security in the region.
Trump's jubilation in inflicting economic hardship on its NATO ally Turkey is shameful. The US has to rehabilitate its addiction to sanctions & bullying or entire world will unite—beyond verbal condemnations—to force it to. We've stood with neighbors before, and will again now.

— Javad Zarif (@JZarif) 11 августа 2018 г.
Qassemi's remarks came a day after Iranian Foreign Minister Mohammad Javad Zarif tweeted that Washington's "jubilation in inflicting economic hardship" on Turkey was "shameful."
He urged Washington "to rehabilitate its addiction to sanctions and bullying or the entire world will unite — beyond verbal condemnations — to force it to."
READ MORE: Turkey's Vital for US to Maintain Military Presence in Mediterranean — Analyst
Earlier, US President Donald Trump announced that he had authorized the doubling of tariffs on steel and aluminum imports from Turkey, praising "the strong dollar" and drawing attention to the plummeting Turkish lira.
The Turkish Foreign Ministry, in turn, vowed to retaliate against restrictive US measures, stressing that Washington will not obtain any tangible results from slapping sanctions on Turkey. The exchange rate of the Turkish lira plummeted more than 16 percent against the US dollar, reaching an all-time low following Trump's announcement.
READ MORE: If US Doesn't Plan on Attacking Turkey, It Shouldn't Fear S-400 Deal – Analyst
In early August, the US introduced sanctions against Turkey's Minister of Justice Abdulhamit Gul and its Interior Minister for their leading roles in the imprisonment of US pastor Andrew Brunson and alleged human rights abuses.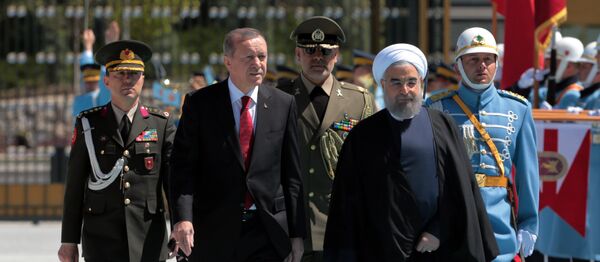 18 January 2018, 10:46 GMT
Brunson was imprisoned about two years ago over his alleged collaboration with Islamic cleric Fethullah Gulen, who is accused of orchestrating the 2016 failed military coup in Turkey. The pastor was recently released from a Turkish prison and placed under house arrest.
In separate development in June, Turkish Foreign Minister Mevlut Cavusoglu warned that Turkey will retaliate in the event Washington decides to impose sanctions in response to Ankara's purchase of Russian S-400 surface-to-air missile systems.