Kessler has obtained a permit for 400 people to protest in the US capital on Sunday. However, only a few dozen people showed up at the planned rally amid the heavy rain.
"First, I would like to make a few things clear. I am not doing this to disrespect the memory of the people who were hurt, or who died last year. Second, I would like to thank the law enforcement community of the Washington, DC area for protecting my free speech rights and, by proxy, the free speech rights of all Americans. This has been a very weird and imperfect process, and I think hopefully we'll do more protests in this area in the future and learn how to work together better," Kessler said in a speech in the Lafayette Square park near the White House on Sunday.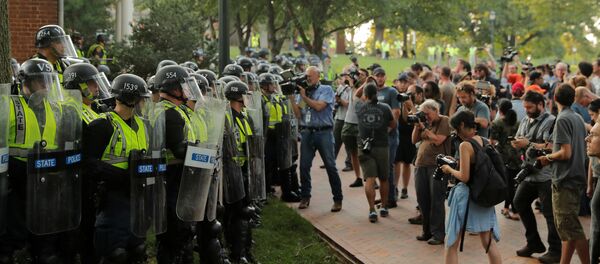 12 August 2018, 04:33 GMT
Kessler stressed that this year, everyone is safe and no one has been hurt, which was his number one priority. The activist also expressed condolences to the families of the victims of last year's violence in Charlottesville.
Speaking to reporters earlier on Sunday, Kessler said he was not a white supremacist but a "civil rights advocate for white people."
Kessler spoke amid two rival rallies taking place in Washington, DC. Apart from authorizing Kessler's rally, the US capital's authorities granted permits for two counterprotests, the organizers of which said they expected thousands of people to take part in the rallies.
The cordons were erected in the US capital in the anticipation of these rallies. The police and special trucks had blocked off several streets in the area. However, pedestrians could have entered this security zone without any constraints.
Moreover, the police had created barricades to separate the two groups, preventing people from crossing the barriers and moving from one part of the park to another.
Additionally, Washington Metropolitan Area Transit Authority closed several metro stations in downtown Washington, DC so that people could use special shuttles to leave the area after the end of the rallies.
READ MORE: Judge Greenlights Subpoena to ID Users of Private Chat Linked to Charlottesville
The police later removed the majority of security barriers that blocked off streets in the vicinity of the White House after crowds, holding protests in the area, began to disperse under heavy rain, and the demonstrations finished, a Sputnik correspondent reported.