Anti-Semitism is an artificial construct created to stop people from criticizing Jews for any wrongdoing, making them the only race that is beyond reproach, Malaysian Prime Minister Mahathir Mohamad said in an interview with the Associated Press on Monday.
"There is one race that cannot be criticized. If you are anti-Semitic, it seems almost as if you are a criminal … anti-Semitic is a term that is invented to prevent people from criticizing the Jews for doing wrong things," noted.
Mohamad, who was sworn in as prime minister in May, earlier said that "Jews rule this world by proxy."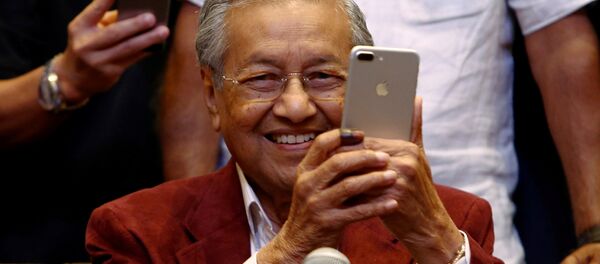 He still insists that he is not against Jews, but only criticizes their actions.
In 2013 Mohamad said what may be interpreted as a call to wipe out all Jews, citing as an example the Holocaust of European Jews by the Nazis during WWII.
 "1.3 billion Muslims cannot be defeated by a few million Jews," he told the Organization of the Islamic Conference summit in Kuala Lumpur.
"There must be a way. And we can only find a way if we stop to think, to assess our weaknesses and our strength, to plan, to strategize and then to counterattack," he said.
"We are actually very strong. 1.3 billion people cannot be simply wiped out. The Europeans killed six million Jews out of 12 million," he continued.
He added that he was glad to be labeled an anti-Semite.
"How can I be otherwise, when the Jews who so often talk of the horrors they suffered during the Holocaust show the same Nazi cruelty and hard-heartedness towards not just their enemies, but even towards their allies should any try to stop the senseless killing of their Palestinian enemies?" he argued.
READ MORE: Swedish Broadcaster Deletes Piece on Muslim Anti-Semitism After Threats
In 2007, Mohamad announced the creation of a war crimes tribunal that would focus on victims of abuse in Iraq, Lebanon and the Palestinian territories.